Professional, local and affordable web design Surrey
Is your website failing to attract customers to your Surrey business?
Would you like to speak to affordable web design specialists near you, to understand more about improving your web presence?
Maybe you need a web consultancy service, where we can help you develop your digital strategy for the future? Here at JJ Solutions, we are a full-service web design company, offering everything from small website updates, to full projects for large organisations of all descriptions.
Our small team are passionate about fantastic design and all our websites are tailored to the individual needs and budgets of our clients. Our bespoke websites not only look brilliant, but are responsive, functional across different platforms and designed with SEO in mind.
In order to deliver the right web solutions for you, we listen and take time to understand your brand, your requirements and your short and long-term business objectives. We cater for all types of businesses and budgets and aim to build strong relationships, working with companies to help them achieve significant business growth and better customer care.
We can create content management systems to give our clients the knowledge and the tools to update their websites in the future and can help with systems development, so they can work smarter and more efficiently.
Our comprehensive range of services includes:
SEO to engage with your target audience, identify key visitor trends, target local areas and help increase potential sales
Expert web design Surrey, from simple websites for sole traders, through to more complex sites for large companies
Social media services, so you can add value to your business and reach new customers via platforms like LinkedIn and Twitter
Quality copywriting services, from award-winning, professional writers, who will translate complex business jargon into simple, persuasive and user-friendly content
Mobile web design, so your company looks as impressive on a mobile phone as it does on a PC
Results-driven Pay-Per-Click and AdWords management – we devise advertising campaigns to generate leads for your business and use call tracking to improve website visitor performance
Marketing support, to help plan a strategy to help reduce unnecessary spending and manage risk, prepare campaigns and identify your target audience
Consultancy and dedicated one-to-one support for your project, so you can stay on track, share ideas and grow your business
Systems development, so you can work smarter using new technology to simplify business processes and improve the productivity of your workforce
A range of other services, including graphic design, domain hosting, e-Commerce, app development and content management systems
If you need more from your website, call us today on 020 3871 8773.
WordPress developers in Surrey creating imaginative and functional WordPress sites for eCommerce clients and others
Are you looking for an eCommerce site or small or medium-business WordPress site? Here at JJ Solutions we are a WordPress agency, who build WordPress websites that will get you found and noticed online. We can take any idea and turn it into a seamless WordPress theme.
We develop custom themes and plugins, all coded with care.
Our WordPress developers can develop a site for your business from scratch to match your brand identity and offer a unique experience to your users.
We train our clients so they can update their WordPress sites, quickly and easily. They can add, remove and edit pages at the click of a button!
Our fully-optimised WordPress sites are all future-proofed and scalable so as your business grows, so can your site.
Get real ROI with our affordably-priced WordPress sites that are renowned for their reliability, functionality and robustness.
We provide on-going technical support so will have a solution for any query you may have.
See a recent WordPress site we built for Fancy Metal Goods. Call us today to discuss your WordPress requirements.
Are you looking for a responsive website? Call our creative web design agency in Surrey
We understand that having a good website is much more than just aesthetics. Effective web design will bring your brand to life, engage with your potential customers and can be the difference between them becoming your customers, or those of your competitors. We strive to gain an in-depth understanding on our clients' businesses, the needs of their customers and their aims. We will then create websites that are user-focused and responsive.
With each year that passes, mobile devices become more a part of our everyday lives, where we surf the internet, make social connections and buy products. We work with our clients to plan how they want their users to view and interact with their site, depending on the type of device they are using. Their sites will view beautifully on mobiles, iPads and computers.
Absolute Roof  Windows – New Website Launched
Absolute Roof Windows is a team of experienced and professional roof windows specialists with over 25 years of experience. Based in Surrey and covering the whole of the South East, including Kent, London, Hertfordshire, Sussex, and Essex, they offer a wide range of roof windows and skylight services, including Velux installation, repairs, re-glazing, replacements, and maintenance. As a Velux-certified business, they offer the highest quality of work when it comes to roof windows and an expert level of product knowledge and expertise.
The team, led by Josh Shepherd, had an existing site but wanted a new and refreshed site that included all their expertise and details of their services. They were getting business through their excellent reputation and word-of-mouth referrals but wanted more traction from their site. Their site ranked well for SEO purposes, so they wanted to ensure that their new site did not stop their organic growth online.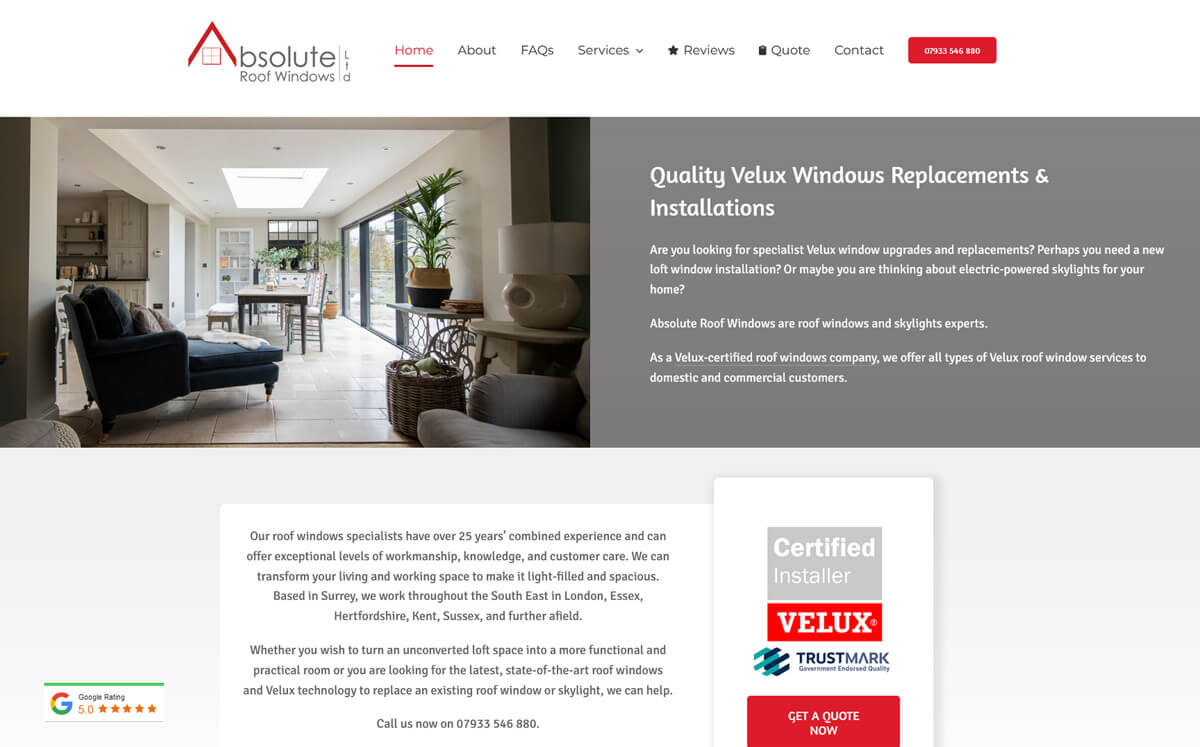 The Results
Josh worked closely with Jason and James to create the design of the new Absolute Roof Windows website, to produce new and expanded navigation, and to ensure all their services were covered. Each service now has its own page so prospective customers can have a clearer idea of both what the company offers and navigate the site more seamlessly.
There is also an FAQs page, a reviews page, and an easy click-through page, so customers can request a quote without having to pick up the phone to increase conversions.
Absolute Roof Windows used the services of their in-house professional copywriter to ensure the copy perfectly reflected their brand values and contained all the relevant information. They also worked on their SEO campaign to ensure their site ranked highly for relevant keywords in Google and other search engines. They have also improved their Google rating. The company was delighted with the results.
Start your web design Surrey project or SEO campaign now by calling JJ Solutions on 020 3871 8773.
Are you looking for a first class WordPress designer in Surrey?
We use all the latest technologies and systems to create the most powerful and effective websites for our customers. One of our most popular requests is WordPress design and our experienced designers and developers are passionate about the creative flexibility of WordPress. This platform is no longer just for blogging; we can build you a dynamic and tailor-made WordPress site to suit the needs of your business. Our extensive knowledge means that we know what works, why and how and we can offer this expertise at some of the best prices available. With some basic training, we can also teach you how the site works, so you can help update your own site in the future, without the need for specialist software or technical skills.
We offer our customers the following:
We take time to listen to you: We know that you know your business better than anyone, so the first step for us is to listen to your aims, the market and your business. We will then go and do some research of our own and understand this area – this approach really makes a difference.
We deliver on time and within budget: We will always be clear from the initial proposal about timescale and costs and will set expectations to ensure success to compete satisfaction. We have low overheads and can pass all these savings onto you.
We are web design specialists: Our founders, James and Jason, are experts in their fields and have decades of experience creating web solutions that really work. If you need simple website or a design with all the bells and whistles, they have the expertise to help. We have created thousands of sites for almost every business you could think of!
We keep it simple: Many web design companies love to build complex sites. We create user-friendly simple sites, that look good, are quick to load and are less prone to problems.
We're honest: Much of our business has grown through word-of-mouth recommendations and we intend to keep growing this way. We will treat you fairly and will do a great job. We will also give you the tools and information to make informed choices in the future. See our reviews for some recommendations.
Call our Surrey web designers for more info
We are always happy to chat to you about your business needs. Please call 020 3871 8773, email us at hello@jj-solutions.com or fill in an online contact form and we will give you a call back.