Croydon Web Design Agency
Your website is a shop window, open 24/7 and If it looks out of date, it can mean that a potential new customer actually leaves your site without making contact with you.
Our web design team can give your existing site a makeover from £349, build you a CMS so you can edit the content yourself or build you a website to start selling online.
Is your website looking a little 1999? Are you embarrassed to give out your URL because you fear potential customers may be put off? Make sure you hire a Croydon web design company you can trust to deliver results and give you true confidence in your online presence. We are proud of our reputation as the premier Selsdon web designers, and aim to uphold our 100% customer service record.
Strata Build – New Website Built for Construction Specialists
Many companies offer different types of expertise, so need a website built to reflect a particular arm of their business. In December 2020, we designed a new website for Strata Build to showcase some of their specialist building services.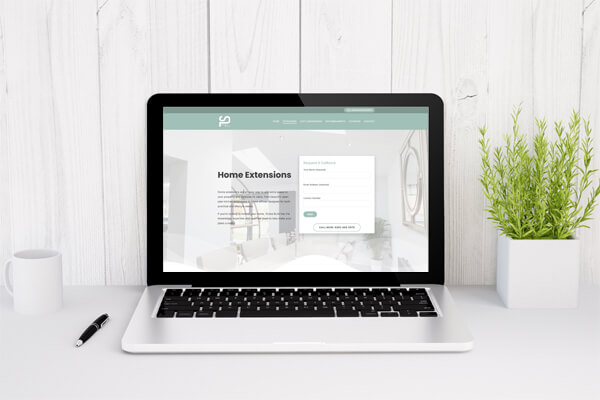 Client Brief – Web Design Services in Croydon
Working across Surrey, London and the South East, Strata Build is a construction specialist offering end-to-end building management solutions. They work with residential and commercial clients to transform properties and create bespoke spaces ideal for every need.
Owner Dave got in touch with JJ Solutions about our website design services. He hoped to create a brand new site for some of their specialist building projects, such as loft conversions, home extensions and property refurbishments.
They wanted a quick and simple website to clearly show what they do while providing a contact form for potential clients to get in touch with Strata Build easily.
The Results
Take a look at the new Strata Build website at www.stratabuild.co.uk.
As you can see from the results, they now have a professional website to promote their building services, including stunning images, a callback form placed at the top of the home page and clear navigation to take online visitors to the relevant part of the site.
Dave worked closely with our recommended copywriting service to finalise the site map and complete the wording for the new web design. This included discussions via phone so that our copywriter had all the information required, ensuring the content reflected what Strata Build offers to customers. As a result, Dave was thrilled with all the content produced, and no changes were requested.
Since the website launch, Strata Build has also started to add landing pages for some of their key services, targeting local areas such as Banstead, Purley, and West Wickham.
Start your web design project by calling JJ Solutions now on 020 3871 8773.
Clients we have worked with in Croydon
WordPress agency in Croydon available for WordPress design
Are you looking for a responsive website that ranks well on Google, can be easily updated, looks fantastic and that provides a great return on investment?
Our dedicated and highly experienced WordPress designers can create a stunning, responsive WordPress site for your business, which really generates results. From a simple brochure website to an advanced e-Commerce solution, we can create the ultimate WordPress site to meet your business needs and objectives.
Easy to implement, use and update: It is very easy to update WordPress sites and make changes and we can instruct you how to do this step-by-step, so you are completely in charge of all content.
Themes and plug-in development: There are many options to choose from, so we can create a site that looks great, reflects your brand and performs brilliantly.
SEO-friendly: WordPress sites are SEO-friendly, so your site will rank highly in Google. We've had great success for James Blaquiere at Wedding Hair Surrey
Responsive: This allows your website to function on all types of devices.
Expandable: Your WordPress site can expand into any format, with the addition of add-ons and numerous other features.
See a site which we built recently for local business TYM Leaflets. Call us to discuss your WordPress site today!
Affordable Selsdon Web Design Services
Selsdon web design has considerably improved since JJ Solutions came on the scene back in 2001. For over ten years we have been enhancing the online image of our clients, and have provided them with well-deserved professional web design. Croydon local businesses have come to rely on our ability to transform their companies through our top-notch design efforts.
Local Selsdon Web Designers Who Understand Your Business
Not only do we provide high quality Coulsdon websites, but we also aim to understand the unique business requirements of each and every client. We realise that money spent on web design is a business investment for which there should be a tangible return. So we like to discuss the commercial aspects of any project, as well as design issues. This ability to combine our design skills with a forward-thinking business approach makes us an extremely effective Croydon web design agency.
Croydon Professional Web Design For A Competitive Market
Our leading Croydonwebdesignservices provide the local business community with a wide array of skills, which makes running a business in a 24/7 online global marketplace that much easier. Whatever your requirements, we can help you carry your business forward with the latest web technologies. Our Selsdon web designers will guide you through the entire process of setting up your new website, from commercial planning and design through to successful implementation.
Let our commercially aware Croydon web design agency guide you through the obstacles of enhancing your company's online presence. Simply give us a call on 0203 871 8773 for a free consultation. Alternatively complete our enquiry form – or just pop us an email. We value all enquiries, and look forward to hearing from you!
Web Designers Who Get Results
Providing quality web design services Coulsdon wide, JJ Solutions are proud to be a leading name in your local area. Over the years, we've worked hard to keep our skills up to date in order to offer your business the website it deserves. We're well known as a leading Coulsdon web design company with over a decade of experience in the industry. For results you can count on, why not give us a call today?
If your website looks dated, it's a sure fire way to put off prospective clients. A fresh new web presence which provides results is guaranteed through our Coulsdon web designers. From simple upgrades to complete overhauls, we have the know-how to create a website which truly reflects your business. For a Coulsdon web design agency you can rely on, contact JJ Solutions today.
Coulsdon Websites Created for Local Businesses
While your business will exist within a global market, it's handy to be able to see your Coulsdon web designers whenever you need to. As a local web design company, Coulsdon business owners know they can have face to face contact with JJ Solutions whenever they wish.
At JJ Solutions, we like to have an in-depth understanding of all our clients' businesses, promoting a forward-thinking approach to professional web design Coulsdon. Local business owners know that JJ Solutions can be trusted to provide measurable results.
An impressive-looking website is the best way to add commercial value to your business in Coulsdon. Websites from our skilled designers tick all the boxes and provide you with the online presence you need.
If you want to know how our team can help you, call JJ Solutions today on 0203 871 8773. Alternatively, you can use our online contact form or drop us an email. We're eager to talk to business owners in the local area at any time, so feel free to contact us today.
See some of our more recent work