Web design agency based in Esher
Are you looking to promote your local business online? Perhaps your current website isn't getting enough visitors and most importantly isn't converting them into leads? Or maybe you're thinking of launching an e-commerce site and need some help?
Then look no further!
Here are JJ Solutions, we are a professional web design agency working with businesses in Esher, Claygate and the surrounding areas.
We pride ourselves on providing a superb web design services at unbeatable prices. We combine excellent design, SEO expertise and strategic thinking to deliver results for you and your Esher business.  We work with every size of business from sole traders and start-ups to multi-national corporations and will have a solution for you.
Run by Jason and James, we have been building strong relationships with businesses in the area since 2001. Our simple and personal approach is to find out as much as possible about your wishes and designing a creative solution tailored to your specific needs. With a skillset that includes bespoke web design and development, copywriting, SEO, graphic design, flash applications, blog writing, press release writing, bespoke CMS, we aim to give you a great return on investment on money invested into your website.
Whether you are looking for a simple bespoke web design or a complete overhaul of your website and a full SEO service, phone us for free on 0203 871 8773.
Need to promote your Esher business online?
Our web developers steer clear of creating complex websites that have customers scratching their heads and instead, focus on good design and simply usability to drive custom to your site. All of our clients have different focuses, aims and budgets, so we offer professional web solutions tailored to every client's wishes.
Our web design services in Esher includes:
Bespoke web design:  Our WordPress developers and web developers will create a bespoke site for your business in Esher, focusing on your core value and brand aims. Our starter package price starts at just £299 for three pages (home, content page and contact us form) and includes free domain and hosting for the first year and email access.
SEO: This is one of our most popular services and will ensure that potential customers find your business and site through the main search engines, such as Google. Our starter SEO package includes three hours of keyword research, optimisation of seven pages on site, Google sitemap submission, Google Places optimisation, two landing pages and submission of your sire to major search engines and costs just £500. To read our blog about ways to make Google love your website, click here.
Graphic design and flash applications: We can design logos, business cards and create attractive web solutions to boost your Esher business.
Other services: We also create bespoke e-commerce sites covering all areas of e-commerce from payment to fulfilment; CMS systems so you can update content yourself and CRM Systems. Our copywriters will ensure the words on your website really sell your product and we also specialise in blog writing, content marketing and press release writing.
We design affordable and fully responsive WordPress websites in Esher
75 million people can't be wrong! That is how many sites across the world are using WordPress! This is a hugely popular Content Management System and with good reason – there are extensive ways a WordPress site might benefit your business. Our professional team of WordPress developers can create a WordPress site customised to your business needs and objectives. We'll help you communicate your brand effectively, increase website visitors, help turn visitors into customers and connect with your potential.
Our WordPress sites also allow you to control your own content, whenever you want!
Easy-to-manage CMS
Site can be fully customised
A cost-effective solution
Can be easily optimised for search engines
Works well across all platforms
Scalable and easily managed
Huge amount of themes and plug-ins available to enhance your site
See a site we built for local Esher business Arbrook PT. Do you need a professional WordPress website on a tight budget? Please call us today!
GES Gardening Services – Building a New Website for a Surrey Gardening Company
Web design services and search engine optimisation (SEO) strategies often work hand in hand, ensuring a website is compatible with anything from Google AdWords to landing pages targeting customers in the local area.
Since 2020, we've been working closely with GES Clean to give their website a much-needed overhaul, ensuring their content reflects what they offer to customers. Then, in January 2021, they approached us to develop a new website for them, promoting their gardening solutions under the name GES Gardening Services.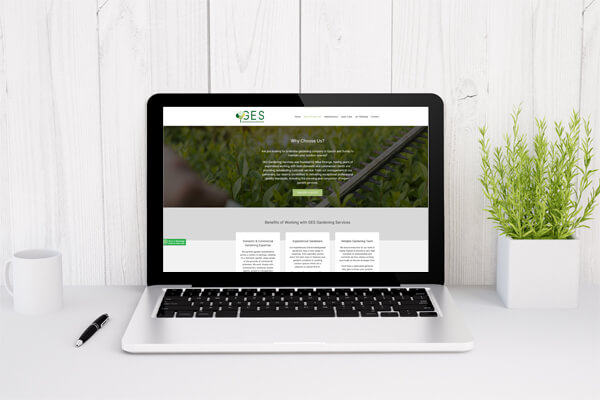 Client Brief – Web Design Services
Based in Epsom in Surrey, GES Gardening Services offers expert garden care solutions across the area.
As this was a brand new website, owner Mike asked for our professional advice about how to decide on the best site map for their requirements. They needed it to make an impact both in the short and long term as it would tie in with everything from their landing pages to Google AdWords.
Mike wanted the website to look professional and emphasise the garden maintenance side of things. He hoped the content would target estates and property management companies too, especially as they already worked closely with this type of customer via their property cleaning services.
The Results
As you can see from the results, their new website is highly professional, highlighting some of their key services, such as regular garden maintenance, lawn care and outdoor power washing services. We've also included a request form to help customers get in touch or make a quote enquiry.
Mike worked with our recommended copywriter to develop the wording required for the new website, having already evolved the content on their existing cleaning company site. This included details about the benefits of working with GES Gardening Services and providing an easy step by step process for customers where relevant.
Begin your web design project by calling JJ Solutions now on 020 3871 8773.
Call our Esher web design team today
For a free quote for any web design work or advice about enhancing your business online, phone us on 0203 871 8773, please email hello@jj-solutions.com
See some of our more recent work