Affordable web design Banstead
Are you hoping to promote your local Banstead business online?
Are your competitors' websites getting more attention than yours?
Perhaps you want to rank more highly on search engines and need a web design Banstead agency that can advise you on SEO and how to improve your visibility? Then look no further!
Here at JJ Solutions we have been working with businesses in Banstead and the surrounding areas since 2001 and our website and WordPress designers offer creative flair, mixed with digital know-how and superb customer service.
From start-ups looking for simple bespoke web design, to small businesses wanting to sell online via an e-commerce site, through to much larger corporations hoping to cause waves in their industry, we are here to help.
All our services are individually tailored to your needs and our skillset includes all aspects of web design, e-commerce, CMS and CRM systems and website hosting, as well as graphic design and a full range of local SEO Surrey packages.
If you are looking for words to really sell your products or services, our team of expert copywriters provide writing expertise across the board, including web content, blog and press release writing. We are a small business and because we do not have the overheads of larger web design agencies, we can pass all those savings to you, meaning that our services come at unbeatable prices.
To talk to us further about your needs, call us for free on 0203 871 8773.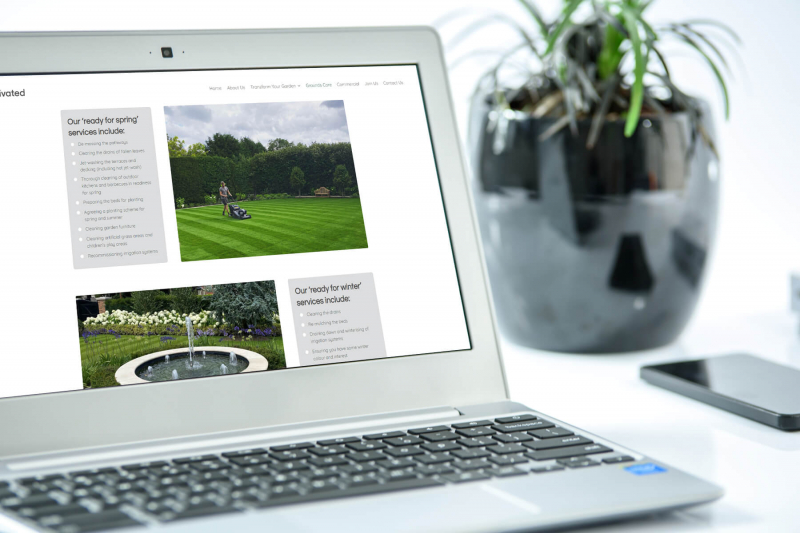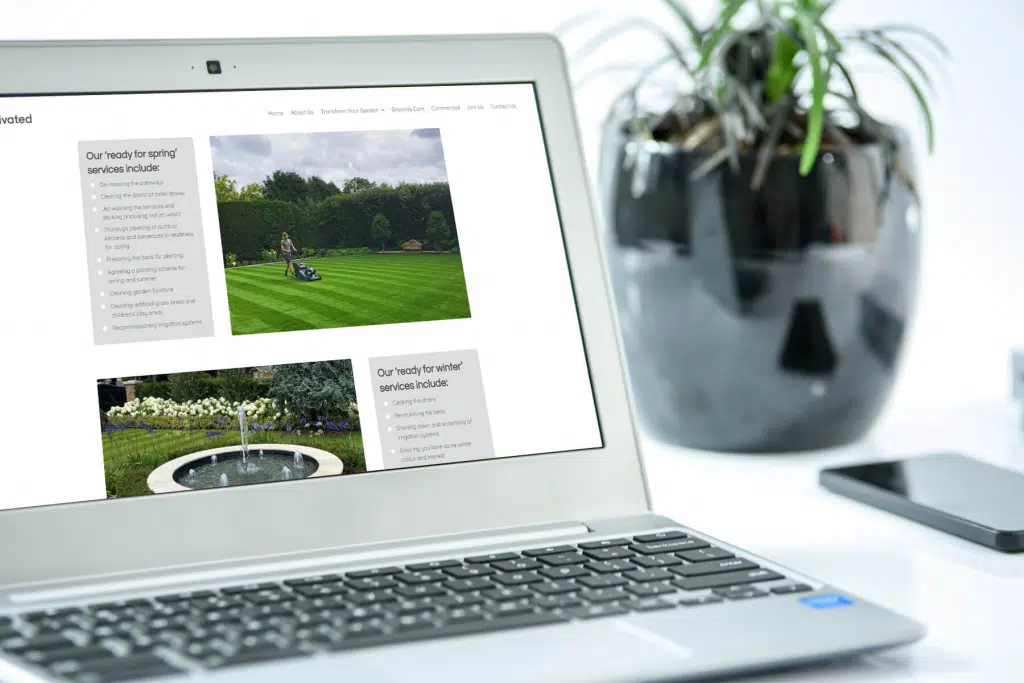 Innovative web design in Banstead
We design innovative and eye-catching websites for all out clients. We will spend time with you to understand exactly what you are after and your brand identity and core values to deliver a functional, free-flowing and fast-loading site. We also combine cutting-edge design with advanced software development, so your site can grow with your business.
As you can see by viewing our portfolio, we design for a huge range of clients across a broad range of industries. Our creativity is combined with cutting-edge technical development skills to create a range of customised online solutions, including e-commerce with watertight payment systems, content management systems providing business owners with a powerful and easy-to-use interface to manage all of their website content and bespoke database design specific to your business needs, so your data can be stored securely and accessed at the click of a finger.
Professional and creative WordPress developers in Banstead
Powerful and flexible, WordPress is a great platform to design and build for and allows clients the ability to easily manage their website in-house. Our WordPress developers at JJ solutions have been creating WordPress content management systems (CMS) for over 15 years and we offer intelligent CMS development to ensure you can do everything you want to – and more – quickly and simply.
We provide bespoke WordPress theme and plugin development tailored to each project's unique requirements and can fulfil any brief.
Experience and expertise: Our WordPress agency has extensive industry experience and unmatched expertise working with the WordPress platform. We can help with everything from the mobile-friendly structure, to training you to use it correctly to ensuring it ranks highly at the top of search engines like Google.
Creativity: We know WordPress inside out and we are always pushing the boundaries of creativity and functionality to get exactly what we want for our clients.
Affordability: Websites do not need to be expensive or complex to deliver. We are a small agency and keep our overheads low, so we can pass on these savings to our clients. We work with all sorts of clients with a wide range of budgets and requirements, so if you're looking for an effective WordPress site and want to start seeing results, we are the people to call.
See a recent example of a WordPress site we have built at Fairoaks Tree Services.
RL Sports Massage Therapy – First Website Design Services
When you're working solo, it can take time to build your business, but showcasing your services online is an crucial step to make and can be an integral part of establishing your brand. This is something the JJ Solutions team can help you with through our bespoke web design solutions.
Back in February 2019, we were approached by a sports massage therapist, Rebecca Latham, to build her first ever website, promoting her services across Surrey and London.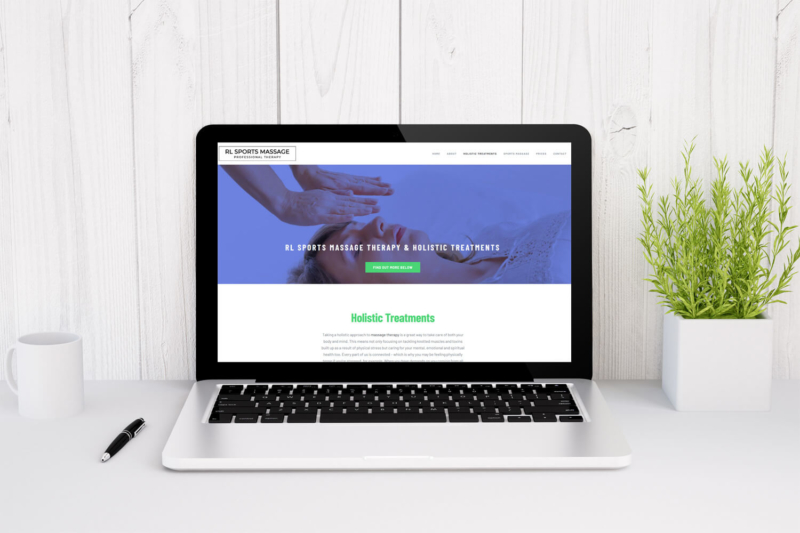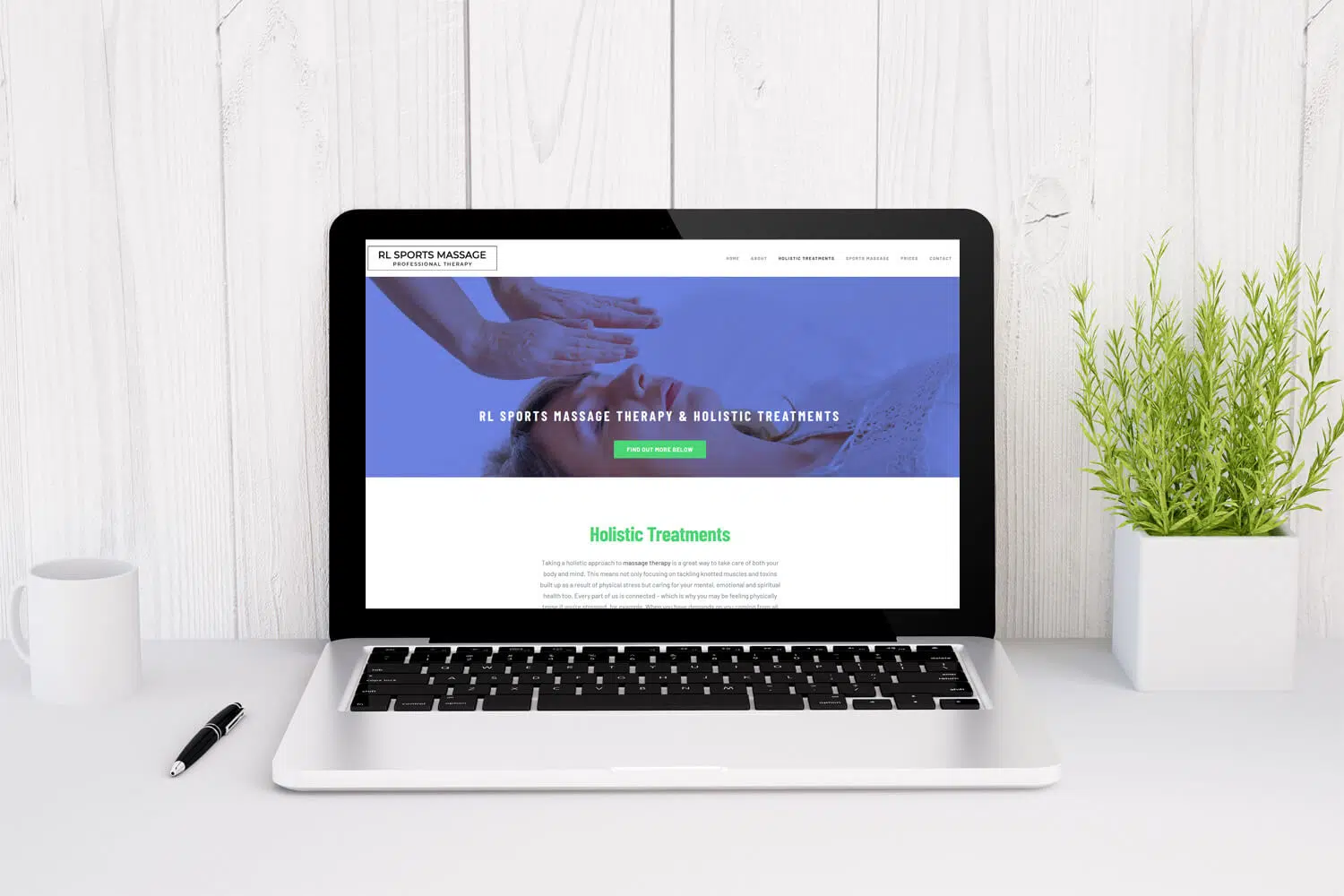 Client Brief – Web Design Services in Banstead
Rebecca Latham is a qualified sports massage therapist offering a variety of services, including mobile sports massage for everyone, holistic treatments and working with people with disabilities. As a busy working mother, she needed help to develop a business name, web design and content for her site. She wanted the website to be professional, promote the specialist services she offers and provide clients with somewhere to contact her.
Rebecca worked closely with our web designers, providing information which would help tailor content to her business. The name 'RL Sports Massage Therapy' was chosen to give her services a more professional touch, securing the domain name for the new website.
The Results
Take a look at the new site – Surveys for Asbestos.
We've created a responsive layout for Rebecca while ensuring customers can easily navigate through the site to the relevant sections. This includes a home page with an overview of services, an About page with more information about Rebecca, dedicated areas for holistic treatments and sports massage, and a price list. We've also added a contact form in which clients can send direct messages.
We also put Rebecca in touch with an expert copywriter to help develop the wording in each section of content. Starting with the Sports Massage page, Rebecca approved the content and writing style, before the rest of the copywriting was completed.
Since the original website design project, we've worked closely with RL Sports Massage Therapy to expand the site content, including landing pages for Surrey locations, such as Banstead, Kingston, Reigate, Tadworth and Leatherhead. This will hopefully help Rebecca to attract more business from these areas.
Start your web design project by calling JJ Solutions now on 020 3871 8773.
SEO (Search Engine Optimisation) in Banstead
As well as making your website look great, the long-term success of your online presence is our priority. We only engage with ethical 'white hat' SEO techniques to achieve this and provide all out clients with an SEO strategy that is proven to generate a return on their investment. Many of our clients have achieved first page rankings thanks to our SEO campaigns.
SEO is evolving all the time. To read more about the history of SEO, read our blog. We will combine content optimisation, keyword research, link building, competitor analysis, and social media marketing to improve your rankings. Our comprehensive range of SEO packages start from just £49 per month.
For a free quote, get in touch with our Banstead web design experts today
To find out more about how we can help you, phone us on 0203 871 8773, email hello@jj-solutions.com, or fill out an online contact form here.