SEO agency providing digital marketing in Loughton, Surrey
SEO and digital marketing how it should be done
JJ Solutions are leading providers of SEO solutions in Loughton, Buckhurst Hill, or Chigwell. With a reputation for technical excellence and a personal approach, James and Jason can unlock the potential of your website so your online visibility is increased. Everything we do is underpinned by SEO best practice and white hat techniques. With a proven approach to SEO and inbound marketing, our search engine consultants optimise sites effectively and efficiently, and we can continuously analyse performance to improve your Return on Investment (ROI).
Our specialist SEO consultants can provide a thorough SEO audit and then take corrective steps to construct a base in which to build your digital marketing strategy. We take time to understand and research your business and always put our clients' needs and vision at the forefront of everything we do and work together to create successful SEO and digital marketing campaigns. This can include Pay Per Click advertising (PPC); local SEO; social media management; and content writing for websites. We never adopt a 'one-size-fits-all' approach and will adopt individual strategies bespoke to your business to generate exceptional results.
Search Engine Optimisation is one of the most efficient and affordable marketing strategies that exists.
Here are just a few reasons SEO is essential:
SEO will help business owners create faster, smoother, and user-friendlier sites that compel users to stay for longer, thereby increasing page views.
Our SEO services will bring in more customers and this 'targeted traffic' is more likely to convert into customers.
Higher rankings on search engines like Google will lead to better brand awareness and potential customers are also more likely to trust your brand.
With our SEO services, you are more likely to bypass the competition and if your competitors are investing in their own SEO strategy it is essential that you do this also.
Are you looking for a PPC agency near Buckhurst Hill?
Here at JJ Solutions, we can create effective Per Per Click (PPC) campaigns in Buckhurst Hill, Loughton, or Woodford Green, which includes highly efficient management and detailed reporting.
PPC is a form of digital marketing where Google and other search engines allow advertisers to show ads on their search engine results page (SERPs). We can define your goals and target audience through different variables, such as location, gender, social demographics, and attract the right audience to your add. All PPC ads are always optimised and compatible with mobile devices to create ads that match or exceed the expectations of mobile users.
Our Google Ad experts can make your PPC campaign a huge success. They will continuously assess your account to improve ROI and quality of leads so they can deliver the most effective results.
IG10 social media marketing
The need for effective SEO is essential and social media marketing and management is an important part of organic SEO. Did you know that 50 per cent of small businesses are not using social media to promote their business? Almost half the world's population using some form of social media, including LinkedIn, Twitter, Facebook, or Instagram. We can monitor our client's profiles across all relevant social media channels 24/7 and can devise effective social media strategies in Loughton, so they can capitalise on the benefits of social media.
We can offer guidance and advice if you want to manage your own social media accounts and perform social media audits, so we can help your brand reach its customer base.
Benefits of social media management include:
Grow your brand awareness
Increase traffic to your site
Promote products and services
Generate a conversation around your brand
Tell your brand's story
Gather data from audience research to improve
Provide great customer service
Copywriting to grow your Loughton business
We offer a range of content writing services for clients in Loughton, including web pages, blog articles, case studies, and product descriptions. All writing is completely unique and our copywriters are guaranteed to deliver eloquent, efficient, and precise copy. All content is influential in building your brand and creating a positive experience for website visitors.
Read our blog on how case studies can help you attract more customers.
Warmer Spaces – A New Website Design for a Specialist Plumbing & Heating Company
In industries where businesses face competition from many other companies, it's essential to find ways to stand out from the crowd. Back in March 2020, we were approached for SEO and web design services by Warmer Spaces, who wanted a new website to reflect their services.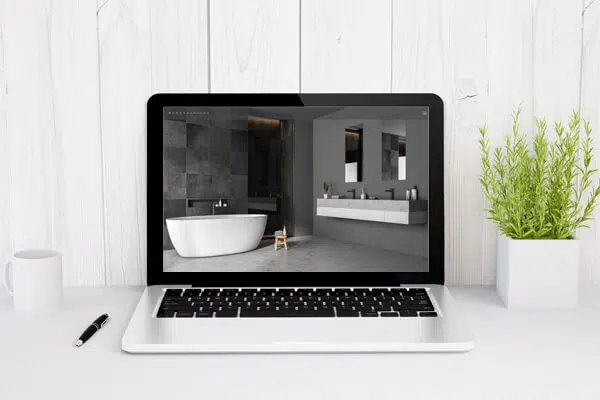 Client Brief – Web Design Services
Operating across London and Essex, Warmer Spaces offers high-quality heating, gas and plumbing installations for homeowners, self-developers, architects and builders who need specialist solutions when refurbishing a property. They even provide fine home improvement services, managing projects from design to completion.
Company owner Wesley got in touch with JJ Solutions about our web design services, hoping to create a new site which showcased all they offer. As they worked with such a wide array of clients with exacting needs, Wesley wanted a professional site with high-quality images and content that promoted their full range of services.
The Results
Take a look at the new Warmer Spaces website design.
As you can see from the results, they now have a beautiful professional website. The website design includes stunning images of their work, including a gallery where more pictures can be continually added. We've also implemented a contact form so that potential customers can get in touch quickly and easily.
Wesley required help to create the wording to complement the web design, so worked closely with one of our recommended copywriters. They confirmed the new website navigation, starting with a breakdown of all the services offered, which were then organised into dedicated pages for plumbing, gas, heating, bathrooms, home refurbishments and other trades, as well as home and about us pages. Wesley was delighted with the final copy, showcasing the company USPs and all the available services.
Since the launch, Wes has also used JJ Solutions for ongoing SEO services, including landing pages for bathroom fitting and boiler repairs for locations they wish to target, as well as content writing assistance for their business directory submissions.
We look forward to working with Warmer Spaces to ensure they build on the success of the website and SEO campaigns.
Are you looking for SEO experts combined with intuitive web design? Get started by calling JJ Solutions for free advice on 020 3871 8773.
Contact our digital marketing experts and search engine consultants in Loughton now
Request an SEO audit or talk to us about our other services now by calling 020 3871 8773. Alternatively, you can email us at hello@jj-solutions.com. We would love to hear about any current or future projects.