Looking For Exceptional Reigate Web Designers? Look No Further!
If you've been searching for a highly regarded Reigate web design company, you have come to the right place.
We specialise in building effective websites for the local business community, and there are few Reigate web designers who can claim to achieve our high standards of web expertise.
A Redhill Web Design Agency to Transform Your Online Presence
Set up in 2001, JJ Solutions has been designing effective Redhill websites for over a decade. We have the experience and skills necessary to deliver attractive, optimised and professional web design. Reigate businesses have been 100% satisfied with our service – a fact which makes us proud.
Reigate Web Design Professionals Who Exceed Your Expectations
We understand that you want to see a return when investing money in web design services Reigate. Business owners rely on us because of our proven track record in delivering commercially successful online solutions. We ensure that your requirements are met – and we also try and go beyond the call of duty by considering such matters as future-proofing.
Evo Plumbers – A New Spin Off Site to Promote Plumbing Services
As well as a having a main parent site, many companies like to produce new dedicated websites to attract more customers to particular sections of their business. Back in July 2020, we were approached by a plumbing and heating company who already had a site for their drainage services, but would now like a second to focus on their plumbing solutions.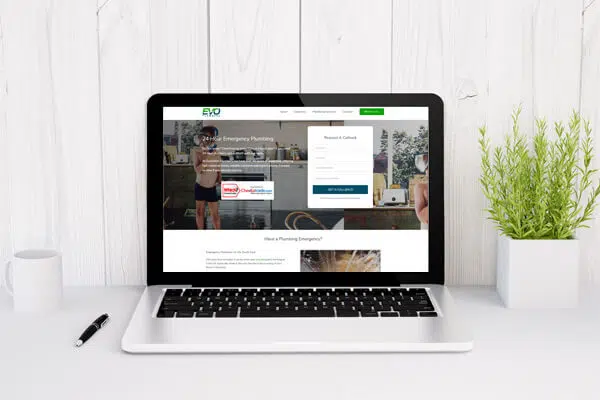 Client Brief – Web Design Services
Based in the South East, Evo Home Services offers a wide range of solutions across the plumbing and heating industry, offering services to domestic, commercial and industrial clients.
When getting in touch with JJ Solutions, Evo wanted their new web design to specifically promote their plumbing services. Each key service they provide as part of their plumbing solutions would have a dedicated page on the site for SEO. This includes their 24-hour emergency plumbing services, bathroom plumbing, hot water cylinders, boiler replacements and gas safety certificates.
Owner Harvey decided on the new site name from suggestions provided before we secured the available domain for him. He also hired our recommended website copywriter, working closely with them to finalise which plumbing services warranted a dedicated page and the information required for the content.
The Results
Take a look at the new Evo Plumbers website that was launched.
As you can see from the results, they now have a professional plumbing website to promote their services. As part of the home page, our website designer has also added a 'Request a Callback' form at the top to give site visitors an easy way to contact Evo as soon as possible, as well as a contact page. The site is clearly laid out to guide potential customers to the relevant service they require while promoting the USPs of the business.
Harvey also used copywriting services to create the wording and content for each page, which he was delighted with. He provided excellent feedback, commenting "they really hit the spot". Our recommended copywriter ensured that each page was uniquely written so that it didn't clash in any way with the existing websites. She started with two pages initially so that the writing style could be approved before continuing with the rest of the content.
The site has been optimised for plumbing services, attracting more customers to use this part of their business.
Want to optimise your website design to increase your online sales? Start your web design and SEO project by calling JJ Solutions now on 020 3871 8773.
Bespoke WordPress development and WordPress web design in Reigate
Here at JJ Solutions, we have been working with WordPress for over a decade and specialise in WordPress design and development, offering beautiful, functional and practical sites, fast turnaround times and affordable pricing. We will build a site designed around your brief to deliver engaging and robust online experiences for your customers, so you can achieve all your business aims.
It's key for any brand to be able to manage their content quickly and flexibly and we build WordPress websites that allow for really effective on-going control and flexibility. Every WordPress site we create is responsive and works on all devices, from phones to laptops.
We offer a range of WordPress services, including:
Responsive WordPress design
CMS development
WordPress theme customisation
WordPress bespoke plugin development
WordPress maintenance and support
WordPress security solutions
WordPress hosting
WordPress consultancy and training
WordPress search engine optimisation
PHP development
See a recent example of a website we built for local arborists and gardening business,  DH Tree Services.
We are experts in WordPress. Please contact us to discuss your needs.
Reigate Web Design Services: The Full Package
Whether you're just looking to spruce up your current design or build an entirely new site, make sure you call in the Reigate web design company that is able to offer the complete package. We take you through the entire process, from planning to design through to launch, explaining all the essential aspects and considerations which should be taken into account, including search engine optimisation.
Redhill Web Design Perfectionists
We're never happy with a job until our clients are completely satisfied with their new websites. Redhill customers are consistently impressed with our thorough planning and attention to detail.
Why not give us a call today for a free initial consultation? Let us help you improve your business with a new, effective and fully search engine optimised website, expertly crafted by the leading Reigate web designers. Contact us on 0203 871 8773, send us an email or complete our enquiry form and we'll be in touch ASAP.
See some of our more recent work