WordPress Web Designers in Cheam
Welcome to JJ Solutions.
We are a professional web design agency and love producing original design solutions at affordable prices for our clients in Cheam, Worcester Park and the surrounding areas of London, Surrey and the South East.
Affordable and skilled WordPress web designers in Cheam
Our expert WordPress developers have been creating stunning, high-performance WordPress sites for a range of clients for over 15 years. We know WordPress like the back of our hands and have helped hundreds of businesses, pushing the boundaries of creativity and functionality of WordPress to suit their needs – for example check out Surrey Fencing and Landscapes. We provide cost-effective WordPress website builds, plugin development and PHP development at an exceptional standard.
WordPress is a popular content management system (CMS) and now 27 percent of websites worldwide use it. Here are just a few reasons why it is so popular:
Easy to use and update: Once we have created a WordPress site for our client, they can quickly and easily update it at any time they want and the change is immediate. We encourage our clients to do this because it is important for search rankings and user engagement.
Lots of options: There are over 10,000 WordPress plug-ins that provide extended capabilities for a variety of needs, including SEO, social media sharing, photo slideshows and many more. This creates a seamless experience for managing and updating your website. There also thousands of free templates (themes) to choose from, so you can give your website the look you want.
Great for SEO: WordPress is a great platform because it creates a good user experience and it is loved by search engines like Google. WordPress sites rank far more quickly than a static website.
It is scalable and flexible: WordPress performance is not compromised as your site grows and it has unlimited scalability potential.
Our WordPress agency will create you a beautiful WordPress website that will fully reflect your brand. Check out our reviews and Goodbye Asbestos to see an example of our work.
Cuddington Carpentry – New Website for a Carpenter in Surrey
Many trades rely on word of mouth and online reviews to attract new clients. However, while customers will check reliable sites for scores on aspects such as reliability, tidiness and workmanship, it's also important to have your own website too. This gives businesses a bespoke platform to showcase their products and services, as well as the benefits of choosing them over competitors.
In early 2019, we were asked to create a website for an experienced carpenter in Surrey.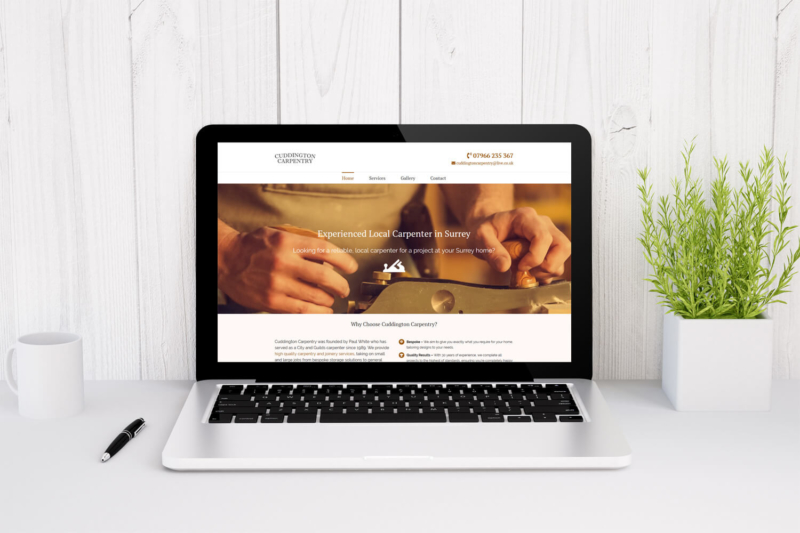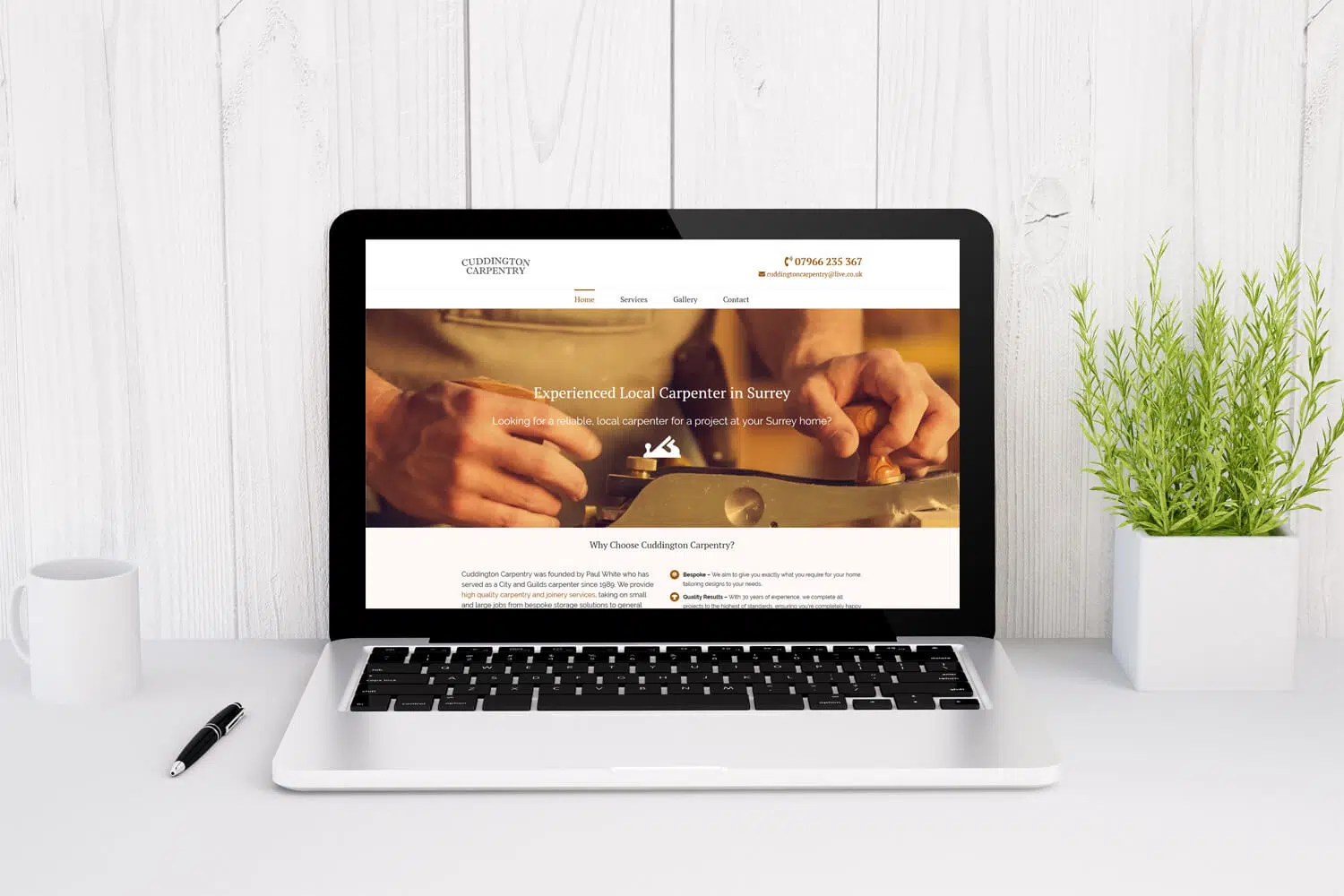 Client Brief – Web Design Services in Cheam
Based in Surrey, Cuddington Carpentry is run by Paul White, providing expert carpentry and joinery services for domestic properties. They operate across local areas, such as Banstead, Chessington, Epsom, Ewell, Hampton, Kingston, New Malden, Oxshott, Sutton, Wimbledon and Worcester Park.
Paul is incredibly experienced, having served as a City and Guilds carpenter since 1989. Having built an excellent reputation on Checkatrade, he got in touch with JJ Solutions about our web design services. Paul wanted to capitalise on the fantastic reputation of Cuddington Carpentry in Surrey by putting together a simple, professional website, which would also include a gallery of work.
Paul worked closely with JJ Solutions' web designers throughout the process, providing images for the online gallery, deciding which key services to promote and thinking about factors which would encourage visitors to get in touch.
The Results
Take a look at the new Cuddington Carpentry website built in WordPress.
As you can see, they now have a professional website to showcase carpentry and joinery services. The home page emphasises reasons to choose Cuddington Carpentry, including bespoke designs, quality results and Checkatrade approved services. The beautiful gallery allows potential clients to see examples of the results they can expect.
For the 'Services' page in the main menu, six types of carpentry work have been selected to take centre stage, including Door Hanging, Alcove Units, Bespoke Wardrobes and Staircase Refurbishment. This type of web design grid is an effective way to maximise the space available, making it easier for users to explore their options with a clear overview of services. It also allows for flexible website design expansion in the future if Cuddington Carpentry would like to create dedicated pages for these services, which can be linked to from the grid area.
Paul also required copywriting services to create the wording for several of the pages, so we put him in touch with an expert copywriter.
Start your web design project by calling JJ Solutions now on 020 3871 8773.
By combining strategic thinking, cutting edge design and technical development, we can deliver effective results for your business.
Since 2001, we have been building strong relationships with our network of collaborators and with our clients and are always looking to try new design concepts and technologies in order to give our clients a creative solution tailored top their specific needs. With a skillset that includes bespoke web design and development, copywriting, SEO, graphic design, flash applications, CMS systems and VBA database development, we aim to help our engage more with their clients online.
Whether you are a start-up looking for a basic site, or a existing business that needs to generate more sales leads through your website, we have the expertise to help. Call us for free on 0203 871 8773 today to find out more.
Need to boost your Cheam business online?
We help our clients gain a positive and effective online presence, through creating sites with good design and simply usability. We focus of the various elements of creative design, combining this with functionality, so our clients' sites are easy to use and effective. We understand that our clients come from a wide range of industries with different requirements, budgets and aims and we offer a professional web solution tailored to every individual's needs.
So whether you are a small start-up looking for local custom or a large corporate organisation looking to sell online, we are web developers who will deliver a product you are happy with every time.
Our comprehensive list of internet services in Cheam
Bespoke web design:  Our WordPress developers and web developers can create a bespoke site for your Cheam business, which ties in with your brand and your business' core values. We can also take care of domain registration and hosting. Our prices start at just £299 for three pages, free domain and hosting for the first year and email access.
SEO: Search Engine Optimisation is one of the most important aspects of generating new custom and it is essential to ensure potential customers find your business through the main search engines. We code with SEO in mind, so potential customers can find your site. Learn more about how SEO can drive local custom to your site in our blog post.
Graphic design and flash applications: We can design company logos, business cards and produce stimulating and attractive solutions to enhance your business and attract customers.
e-commerce sites: Our expertise covers all areas of designing e-commerce sites from payment to fulfilment. As well as creating a design that appeals to your Cheam business market and focuses on selling your products, we can deal with the technical side and installations.
Other services: We also create bespoke CMS systems so you can update content yourself. Our copywriters will ensure the words on your website really make you stand out from the crowd.
Call our web design specialists in Cheam today
For a free, no-obligation quote for any web design work you need doing or for advice about promoting your business online, call us today on 0203 871 8773, email hello@jj-solutions.com, or fill out an online contact form here.
See some of our more recent work