Web Designers in Weybridge
If you're looking for a well-known Weybridge web design company, look no further. For over ten years, we have designed websites for local businesses which encompass only the best in style and functionality.
We are constantly looking to improve our skills, offering only the latest services in web technologies.
Weybridge Web Designers: JJ Solutions are Ahead of the Game
At JJ Solutions, we offer all-round great service in skilfully designed, SEO friendly and professionally programmed Weybridge websites. Since 2001, much has changed across the World Wide Web, and we've made it our mission to stay ahead of the competition when it comes to progress. We are consistently updating our knowledge in line with current design standards and this is why we are known as the number one Weybridge web design agency.
Creative WordPress design in Weybridge, KT13
Are you looking for professional and affordable Weybridge WordPress web developers, who really know their stuff? Do you want a beautifully-designed and user-friendly WordPress website? Do you need help with an existing WordPress site to boost your SEO and user interaction? Call JJ Solutions!
We are a small team of dedicated and vastly experienced web designers and WordPress designers, who can take on website projects of all sizes. We can build you a WordPress site for your business quickly, efficiently and cost-effectively by leveraging the power of this fantastic CMS platform.
We will help you utilise the full potential of WordPress and make sure that you get the most out of your website. We do everything ourselves, from design and development, through to consultancy work.
We offer a complete range of WordPress services, covering:
Custom WordPress design and development
WordPress theme customisation
SEO and optimisation
WooCommerce set-up and customisation
WordPress plugin and php development
WordPress maintenance and support
WordPress security solutions
WordPress hosting
Contact us today for a free consultation – we will be delighted to help you with all your WordPress needs!
Client Brief – Graffiti Removal Wipeout Ltd. New Website Launch
Wipeout Ltd. is a team of exterior cleaning specialists offering specialist graffiti removal in Surrey and throughout the South East. With over three decades of experience in the exterior cleaning business, the company can remove all traces of paint and graffiti from all types of residential and commercial exteriors.
The company uses advanced tried-and-tested graffiti removal methods following a tried-and-tested process. They can also remove graffiti from any type of material, including concrete, sandstone, brick, render, and glass. They offer different types of anti-graffiti coatings to ensure protection.
Wipeout is a large and high-quality cleaning business offering top-grade domestic and commercial environmental cleaning services. They wanted a dedicated and fresh new website focusing on specialist graffiti removals and to create an engaging site and online experience. They also wanted to demonstrate the scope of their work, which includes working for direct clients, sub-contracted work, and insurance claims.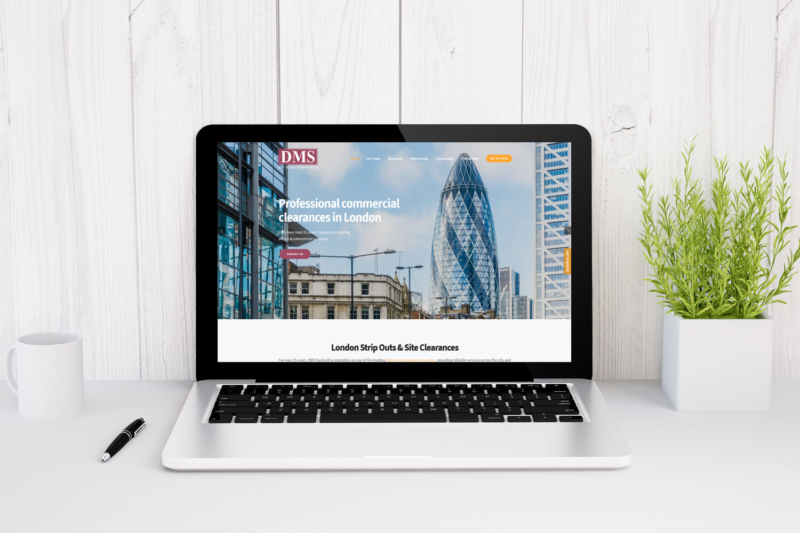 The Results
JJ Solutions designed and created a new website for Graffiti Removal Wipeout Ltd, so all the essential information about graffiti removal was easy to find. The main goal was to generate leads and ensure the user experience was smooth, quick, and consistent across all platforms. We always use a mobile-first approach, so all new websites work seamlessly across all devices.
The team at Wipeout worked with one of JJ Solutions' professional copywriters to provide informative copy for the site about cleaning methods, including DOFF cleaning, so the business could achieve the best possible results.
There is also a gallery page, for customers to view before and after pictures using an interactive drag tool. The contact form is easily accessible, so potential customers could contact the business with queries.
Learn more about website design in Weybridge or Addlestone by calling JJ Solutions on 020 3871 8773.
Weybridge Web Design Services Right up Your Street
An impressive website is a great asset to your business, and it is worth investing only in truly professional web design. Weybridge business owners know us for our results and in-depth business knowledge, and we're proud to hold good relationships with every client. Combining skilled web design with commercial know-how, JJ Solutions also offer Search Engine Optimisation, making us a versatile Weybridge web design agency for business owners.
As we've gained experience and skill over our eleven years in business, our clients know they can trust us for great web design. Weybridge wide, we can take on any size of project, for sole traders, start-ups and large businesses.
A Weybridge Web Design Agency for All
At JJ Solutions, we have an excellent track record when it comes to customer service, making sure that each client gets exactly the results they want. For trusted web design services, Weybridge businesses can contact us at any time to discuss their needs.
Contact us today on 0203 871 8773 for a free consultation and we'll help you get started on your way to a better online presence. As the leading Weybridge web design company, we can help you get the website you want with a quick turnaround. You can also complete our online enquiry form or drop us an email to book an appointment.
See some of our more recent work