Web design specialists working in Balham, London
JJ Solutions are trusted, local web designers, WordPress designers and SEO specialists working in and around Balham, Tooting Bec and throughout the nearby areas of South London and Surrey. We create premium websites that look great, perform well and rank highly in search engines, for affordable price tags.
We've created websites for many local businesses in Norwood, Wandsworth, Streatham and Dulwich.
Our aim is to bring high-end web design to local businesses of all sizes, from sole traders to medium and large corporate companies, so they can have an exceptional web presence and a serious competitive advantage. We provide a wide range of web design and development services, including:
Web design
WordPress design
App development
Website domain hosting
Copywriting
Website maintenance
Website redevelopment
Mobile web design
Digital marking
WordPress and web design consultancy
We have over 18 years' experience and have built websites for all types of businesses, from double glazing manufacturers, waste management companies and electrical contractors, to aesthetic beauty consultants, personal trainers, and physiotherapists, and more.
Regardless of the size of your business, or your budget, our web design agency can work with you to create a professional web presence. To talk through our web design packages, please call us now on 020 3871 8773.
DDC London – First Website for a Staircase Designer
When launching a new business, it can be challenging to understand the precise direction you want to take. Involving expert web designers early on in the process can help you to organise your thoughts and ideas for your brand, including your logo, name, and how to tailor your website around your business needs. For this project, we helped DDC London Ltd launch their first website.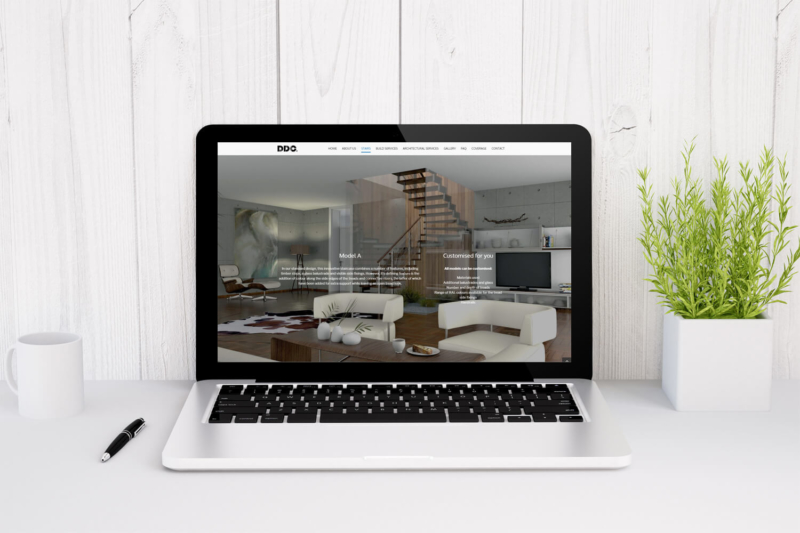 Client Brief – Web Design Services in Clapham
DDC London provides affordable, high-quality staircase designs for every type of home. They mostly work across the South East of England, including Berkshire, London, Surrey, Kensington and Hammersmith.
Their lead staircase designer, Egli Gjoci, got in touch with JJ Solutions to start planning out the website design, as the business was still in the stages of developing their standard staircase models. We agreed on an initial design which would consist of a Home, About, FAQs and Contact page, and this could be expanded as plans took shape.
For the web design brief, they wanted to appeal to clients in domestic properties, providing services at competitive rates without sacrificing the quality of the design. Egli also emphasised some of the benefits of working with DDC London as a staircase designer, including their advanced 3D rendering service, which makes it easier to see what the staircase will look like within the home.
The Results
Take a look at the new DDC London website design here.
As you can see from the results, DDC now has a professional website to showcase their staircase design services.
As they've developed their business, we've expanded the web design to include more pages to reflect their architectural and build services. It was vital for the website to have appealing visuals, so we've also added a gallery to show potential clients the high standard of the staircase designs. Website users can even start to play with the bespoke design of the staircase models while browsing the site to see the possibilities available to them.
An in-built contact form allows potential customers to send DDC London direct enquiries. Egli used the services of our recommended copywriter to create much of wording for the site, emphasising the benefits of working with such an experienced team.
Since the website launch, we've continued to work closely with DDC London, including a Google Ads campaign.
Start your web design project by calling JJ Solutions now on 020 3871 8773.
Our Tooting Bec web designers can build an outstanding site
A business's website is one of the most powerful selling tools available to them, which is why it is essential that your site is working hard for you. Whether you already have a site that needs to be redeveloped, or you want a new website from scratch, our WordPress and web developers are here to create powerful, functional and aesthetically-pleasing sites.
With ever-increasing numbers of people accessing websites using their mobile phones and tablets, it is essential that all sites are always user-friendly, across all devices.
We aim to offer a personal service and the design process simple and streamlined, so we can create a site that reflects your brand. We can bring your aspirations and values to life. Read our blog on creating a website for your business.
We can assist with:
Web design: Our web designers will create modern, fast and user-friendly sites, to highlight the best of your company across all devices.
Web development: We focus on every part of the web development process, from research and planning through to design and development, so your website achieves your goals.
E-Commerce websites: We work with various platforms, including WooCommerce and Shopify, so we can bring scalable e-Commerce technologies to fulfil your bespoke requirements.
Content Management systems: The majority of the websites we build use user-friendly content management systems, like WordPress, so they are easy to manage in the future. We can train you on how to update your content as and when you wish, offering a flexible and cost-effective solution.
Digital marketing and SEO: We can unlock the online potential of your business using SEO and digital marking strategy. We use a personal and honest approach, where we will work closely with you to build a strategy to target sales leads and make your site work for you.
First-class WordPress design near Balham (SW12)
WordPress is an outstanding, cost-effective solution for many small and medium-sized businesses looking to create a strong online presence. With over 75 million installations worldwide, it is by far the most popular CMS. Our WordPress developers can create a site to match your requirements, with integrations and plugins as required.
Mobile-friendly: All WordPress sites give great displays on mobile phone, iPads and other devices.
Optimisation: WordPress by design is Google-friendly, giving you a head start with SEO.
Extra security: Regular software developments and checks are available for your peace of mind.
Bespoke: We can create plugins to enhance the functionality and productivity of your site.
Quick: Whether you use an off-the-shelf template or a bespoke one, we can get your new site built quickly.
WordPress consultancy: We are always here to assist with your WordPress inquiries.
Simple to use: WordPress's user-friendly interface allows you to add and edit pages, images and blog posts with ease.
Call our internet design agency for web design or copywriting in Balham
Let's chat about your web design project! Please email hello@jj-solutions.com or call us now on 020 3871 8773.