JJ Solutions: First for Woking Web Design
A badly-maintained website can have more negative effects for your business than you might think.
By calling on our Woking web designers, you can overhaul a tired-looking website in no time, or have us build you a new one from scratch.
Bespoke WordPress web design in Woking, GU22
WordPress is a powerful Content Management System, that allows our web developers to create highly-customisable sites that you can update over time, without our involvement. It has grown from its humble beginnings as a blogging system and now powers a large percentage of the entire web.
We are huge fans of WordPress is an ideal platform to build a company's customer-facing websites for both desktop and mobile devices and our small team of WordPress developers have created hundreds of sites over the last decade for local businesses. It's clean and easy to use administration dashboard allows easy creation, review and publication of online content. It can also be extended with an enormous collection of themes and advanced features, so is flexible and scalable.
Importantly, it has also been built with SEO in mind and our designers can optimise it further.
Our team can create custom WordPress websites, rescue your existing WordPress sites, assess your site and provide a new SEO strategy and more.
Want to learn more? Call us today!
Client Brief – Remedial Plumbing & Heating New Website Design, Copy & Launch
Based in Surrey and working throughout parts of Hampshire and West Sussex, Remedial Plumbing & Heating, is a skilled and reliable team of Gas Safe-approved plumbers and heating engineers. The business offers a wide range of plumbing and heating services, including boiler installations, boiler repairs, and boiler servicing, as well as all aspects of plumbing, central heating, and power flushing services. They work with boilers of all makes and models, utilising the latest energy-saving technology.
Providing an expert, reliable, and independent service, the business wanted to build on its excellent reputation locally to create a professional and modern website. The aim of the new site was to increase business leads and generate greater brand awareness.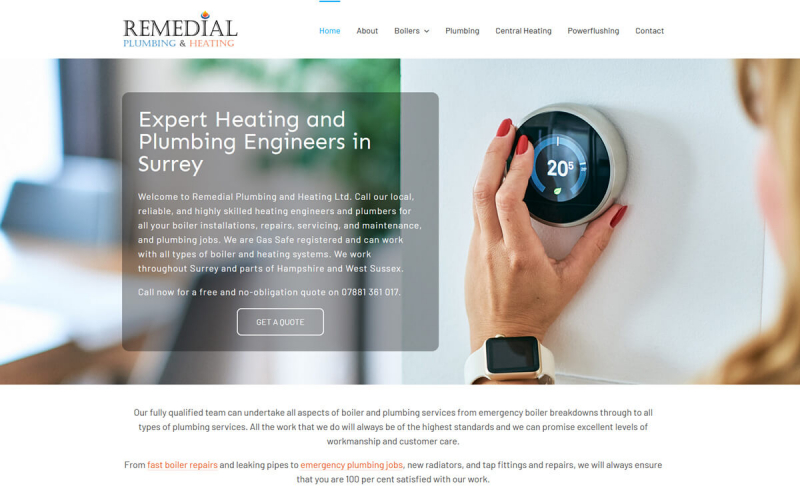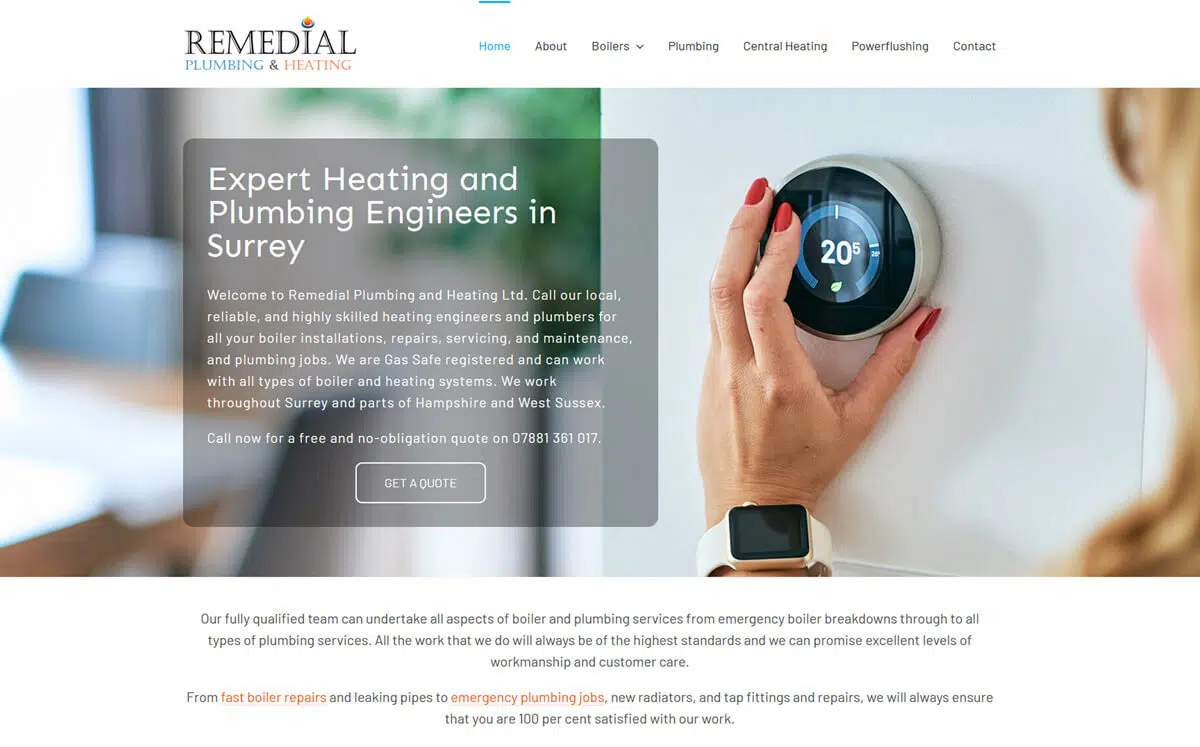 The Results
To support the business' goals, JJ Solutions worked to create a professional and responsive website, with a 'call to action' for lead generation on every page leading through to an easy contact form. The site architecture and navigation allowed for a seamless user experience for easy browsing across the different services they offer. This included separate sections for boilers, plumbing, power flushing, and central heating.
Remedial Plumbing & Heating also worked with one of JJ Solutions' highly-skilled copywriters for an excellent content experience, which ultimately improves trust and credibility. This aims to drive site conversion of users into customers.
The website is fully responsive across all devices, backed by WordPress CMS for easy content management.
Remedial Plumbing & Heating has also looked to JJ Solutions to start thinking about their SEO so they rank highly in relevant Google searches for local areas and for future growth.
Would you like to discuss a new website project in Woking or Pyrford? Please call JJ Solutions on 020 3871 8773.
Our skills and experience in working with business owners of all trades (for example, Pyrford Builders) have put us on the map as the number one Woking web design agency to work with.
How Our Woking Web Designers Can Help You
Formed by James and Jason in 2001, JJ Solutions has been providing excellent Woking web design services to companies such as Arbrook Personal Training for over a decade. We're constantly learning new skills in order to improve our SEO techniques, as we understand that, no matter how well-established you are in your field, there is always room for improvement. When looking for a web design company, Feely Concrete (a Woking-based business) trusted JJ provide them with a top quality website every time.
Business Owner in Woking? Web Design Company JJ Solutions is Ahead of the Rest
Because we work with all manner of businesses, such as Feely Concrete, our Woking websites are created to the bespoke requirements of each client. We always develop a strong working relationship with all of our clients in order to gain an in-depth understanding of how they run their companies. Renowned for our professional web design, Woking company owners needn't worry about their online presence any longer – JJ Solutions provide reliable services which provide real commercial results.
Woking Websites from Local Providers
All businesses need a strong online presence, and our Woking web designers are keenly aware of the importance of this in a global marketplace. Although the internet means we are connected to the whole world, there are advantages to using a local web design company. Woking business owners can benefit from a personal service where they can arrange to meet their web designer locally at any time. Being able to meet face-to-face allows the client total control over their service and a better all-round experience.
Improve your website today with your local Woking web design agency. Contact us on 0203 871 8773 or drop us an email to discuss your needs.
See some of our more recent work
We offer a full suite of WordPress web design and development services
Here at JJ Solutions, we have been working with WordPress for over a decade, so we know and understand this platform like the back of our hands! We offer high quality WordPress web design, and custom PHP development to help you build and manage your online presence. Our sites look fantastic and offer outstanding performance.
Responsive WordPress websites for all businesses: We can design and build a responsive site that looks great across all platforms and devices.
WordPress theme development: We can offer off-the-peg themes or develop themes completely from scratch, so your site reflects your brand and stands out from the crowd.
E-commerce sites: We can create eCommerce WordPress sites using the plugin, WooCommerce.
WordPress website migration: We can upgrade your current website from it's existing platform (e.g. Joomla, Drupal, basic HTML) to a newer WordPress one.
WordPress support: Updating your WordPress site is an important part of maintaining your online presence and we will equip you with all the tools you need to do this yourself.
If you have any questions, please get in touch on 020 3871 8773.
Gourmet Hog Roast Hampshire – Dedicated Microsite for a Franchise
For a business signing up franchisees, one of the benefits you can provide is the provision of their own microsite. The Gourmet Hog Roast Company regularly works with JJ Solutions for SEO expertise, but on this occasion, they would need our expert web design services.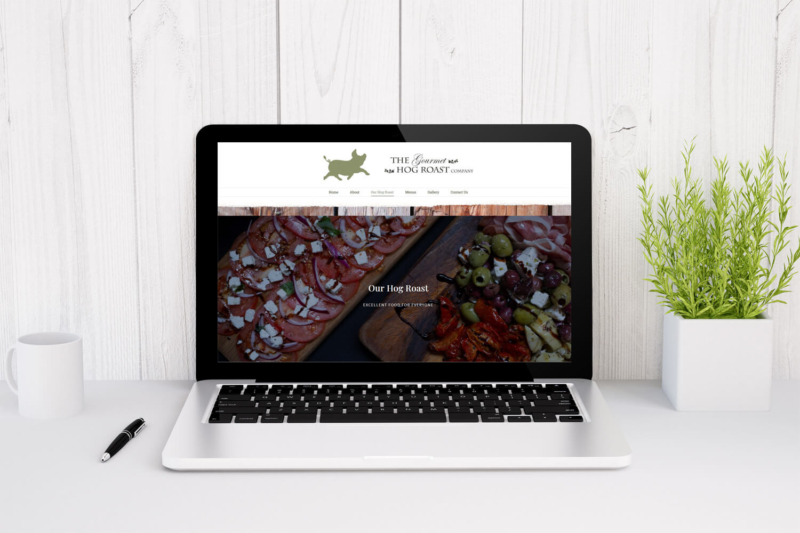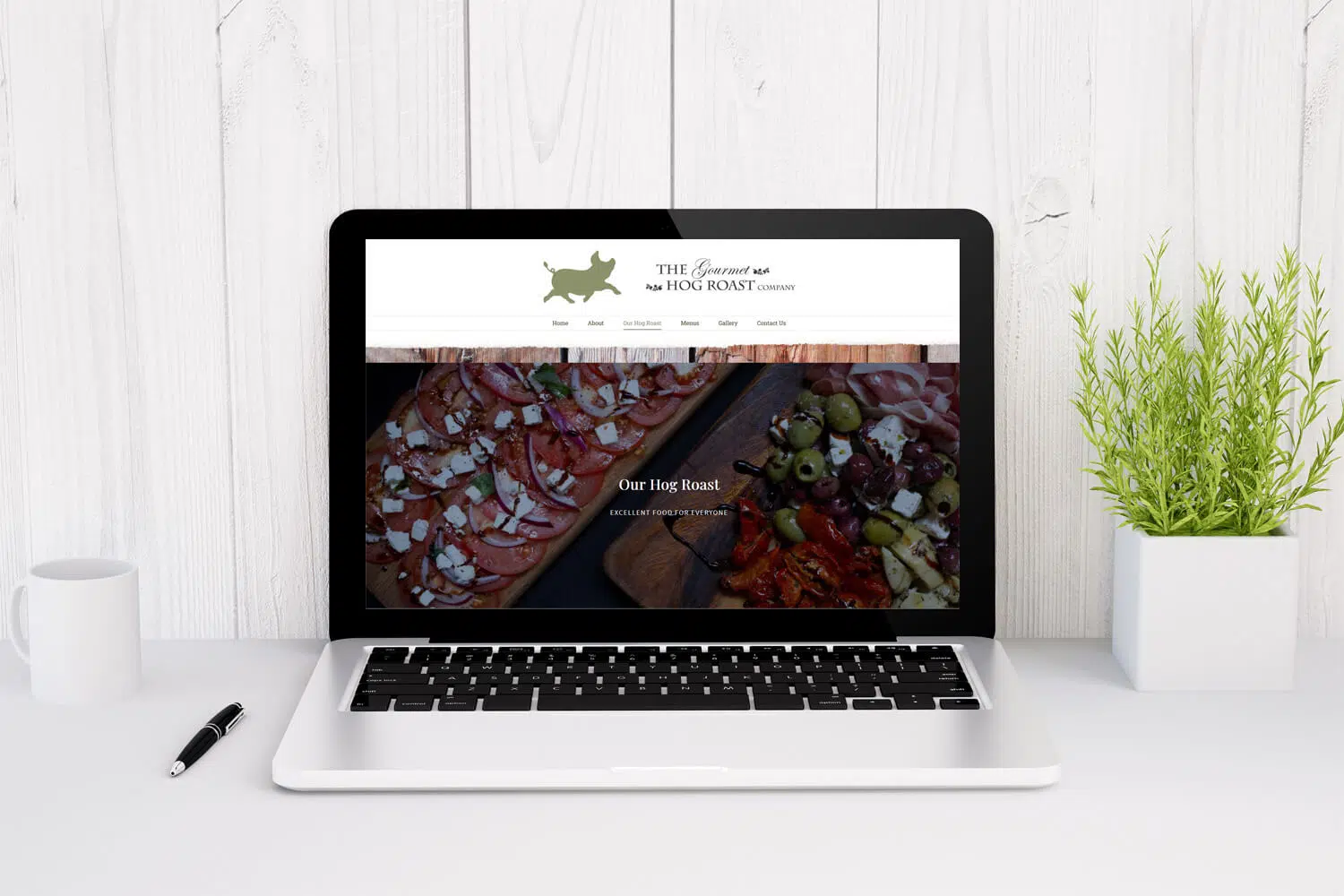 Client Brief – Web Design Services
Based in London, The Gourmet Hog Roast Company provides delicious hog roast catering for events such as weddings, BBQs and corporate functions. They're also a franchise, training and supporting others to run their own business under the Gourmet Hog Roast brand name.
Back in October 2019, they required our web designers to create a new microsite for their franchisee who covers Hampshire territories. The website needed to accurately reflect The Gourmet Hog Roast Company brand while shining a spotlight on the Hampshire franchisee himself to give a more personal touch.
We worked with the Gourmet Hog Roast team to agree on the web design, including the navigation and purchasing of domain names. They also worked closely with our recommended copywriter who already writes their monthly blogs to create the wording on the site.
The Results
Take a look at the new Gourmet Hog Roast Hampshire website design here.
As you can see from the results, they now have a professional website to showcase their services. It remains in-line with the branding of The Gourmet Hog Roast's parent site while offering unique content. We've ensured the visuals remain appealing to target customers who want to hire a hog roast company and have even included a gallery of their delicious food.
The site covers everything from an overview of their hog roasts to the different events they cover, such as private parties and weddings. The website design also includes a dedicated menu section to include information about the different packages available, including their traditional hog roast, BBQ and wedding food selections. We've added a bespoke contact form too to help get more helpful information from potential clients when they send an enquiry, such as the date and type of event.
Start your web design project by calling JJ Solutions now on 020 3871 8773.