WordPress web designers in Morden
Are you based in Morden or Wimbledon and looking for a professional web design company without breaking the bank?
Is your website not giving you the exposure that you hoped?
Do you want to get to the first page of Google and stay there?
JJ Solutions offers a huge range of web solution services, including bespoke web design and development, copywriting, SEO, graphic design, CMS and CRM systems for a huge range of local Surrey and London companies at unbeatable prices.
We pride ourselves on offering a uniquely personal service when it comes to understanding your business goals and translating these through to an online site, whether you are a sole trader or a large company.
We understand the importance of having an attractive and functional site and the technology involved in driving potential business through to your business, so you can engage with your customers online. Our prices start at just £299 for a three-page bespoke website, including a free domain name and hosting for a year. Call us for free on 0203 871 8773 today to find out more.
Client Brief – New Website Launch for GES Exterior Cleaning
GES Exterior Cleaning is a professional exterior cleaning company, offering a vast range of professional jet washing, pressure washing, and power washing services. Based in Epsom in Surrey, they offer high-quality and competitively-priced cleaning services throughout the local areas of Surrey and South London.
As a Surrey Trading Standards-approved and family-run cleaning business, GES Exterior Cleaning has been offering domestic cleaning, end of tenancy cleaning, office cleaning, spring cleaning, carpet cleaning, and related services for many years. JJ Solutions has worked with the business on SEO for several years and as they branched into completing more exterior cleaning, they wanted a completely separate website to focus on pressure washing and jet washing.
The business, run by husband-and-wife team Gill and Mike Strange, had a glowing reputation but wanted a site that led to increased conversions for this side of their ever-growing business.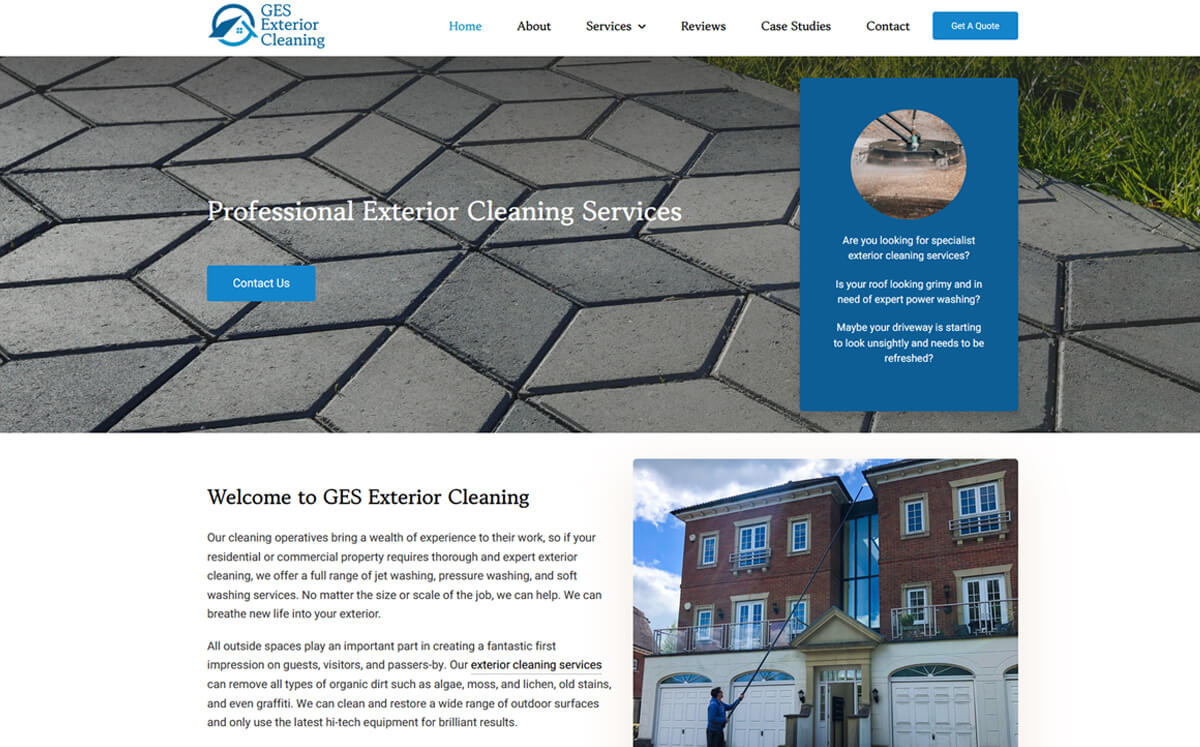 The Results
The team at JJ Solutions worked with GES Exterior Cleaning to create a new website, which included much more detail on the wide range of exterior cleaning services that they offer. This included pages on driveway cleaning, patio cleaning, roof cleaning, gutter cleaning, brick & stonework cleaning, and render cleaning.
The site also included reviews and case studies, featuring pictures and details of the latest cleaning projects, allowing prospective customers to look more closely at the project type, products used, and areas. The site also included a click-through to a quotation page, so they could receive a quick and easy quote and schedule an appointment.
The company worked with JJ Solutions' copywriter to ensure every aspect of their business was covered, including some of the different exterior cleaning techniques and benefits of this type of cleaning. The results spoke for themselves and now GES Exterior Cleaning has an excellent shopfront to this side of their successful business.
Start your web design project in Morden or West Sutton by calling JJ Solutions on 020 3871 8773.
Our web design services in Morden
We work with a huge number of local businesses in Morden and Wimbledon and offer the following services:
Bespoke web design: We can provide a bespoke web design service, producing designs that are both functional and visually appealing. For example, take a look at this site – Olly London – a fantastic worktop fitter in Morden.
SEO: All the websites that we build are created using the latest Search Engine Optimisation (SEO) techniques, so they perform well across search engines. If your existing website is underperforming, we can provide a full SEO service to get your pages seen by your customers, including keyword research, optimising content and images and writing META tags. Many of our clients' pages now rank on the first page of Google. To read more about ranking highly on Google, read our blog article, here.
E-commerce sites: We create bespoke e-commerce sites based on your requirements, ensuring the resulting site is user friendly, easy to manage and tailored to your target audience.
Content management: Our CMS systems allow you to change the content of your own website, so we focus on designing a site that is tailored for your business and straightforward to use. We are also very familiar with WordPress and can even write plugins for you so we can customise this great open source system to your requirements.
Much more: From graphic design and flash applications to create company logos, CRM Systems, domain hosting and content marketing including copywriting and blog writing. Whatever your website needs, we can help.
Why choose JJ Solutions to design a site for your Morden business?
Every site we work on is bespoke and we make each one to the exact requirements of our clients.
There are no hidden extras with our web design services, which include everything you need to get your site designed, built and up and running online.
We offer a personal service and take time to understand all about your business, your ideas and your business goals, so we can create a site that you are 100 per cent happy with.
We have over 13 years' experience and can offer you friendly advice and technical support at any time.
Your project will be done in time and on budget without exception. To see some of our recent site launches, click here.
Call our Morden WordPress designer and web design specialists
To talk to one of our team about how you can boost your business online, call us free today on 0203 871 8773, send us an email at hello@jj-solutions.com, or fill out an online contact form here.
Affordable WordPress design by experienced WordPress developers in Morden
We are WordPress developers based near Morden, who offer affordable and professional WordPress services to help local businesses grow. All too often local businesses struggle to compete against their larger competitors because these big companies have larger budgets for digital marketing. We create modern, responsive and affordable WordPress sites that will help transform your business, so you can reach your business aims and goals. We will work closely with you to achieve the best, most cost-effective results.
We are experts in the world's most trusted digital platform and have over a decade of experience designing websites for hundreds of local clients, from single page sites, through to large eCommerce sites using WordPress and WooCommerce. We know that a large part of managing a website is keeping information as fresh and relevant as possible for your customers. WordPress allows you to take control of this yourself, so you can add new pages and posts, share articles and keep you customers up to date with latest products and services.
Do you need a bespoke WordPress website designed for your Morden business or is there a project you would like to discuss? Please call us now 020 3871 8773.