Web developers and WordPress designers working in and around Bromley, Kent
Welcome to JJ Solutions. We are web design and web development specialists, creating responsive web designs, bespoke WordPress websites and e-Commerce solutions for clients in Bromley, Elmstead and the wider parts of London and Surrey.
If you are looking for a web design company who really care about their clients and offer a personal and highly professional service, then you have found us!
Launched in 2001 by web designers Jason and James, JJ Solutions builds excellent relationships with our clients and offer a customer-centric approach, along with outstanding design expertise and technological know-how, to deliver user-friendly websites for all types of businesses, from sole traders, through to medium and large-sized organisations.
Your website needs to work hard on your behalf. It will often the first interaction any potential client will have with you or your business, so getting design and functionality right, is the key to success. We will design a website that not only looks great but that works for you too. From initial consultancy, through to development, design, and build, we will work closely with you to develop a site that exceeds all your expectations.
Our skillset includes everything from WordPress design, PHP development, and bespoke plugin development, through to CRM systems and database development. We have a team of expert in-house copywriters who create all types of content, including web pages and blogs. We can also assist with all types of internet marketing, including social media management, PPC advertising and much more.
Heckburn Security – Website Rebuild for a Security Company
As a business evolves its services over time, a website must reflect any changes and ensure it still aligns with the company's goals. If not, it may be time for a website rebuild, updating the site's look, feel and content.
In December 2020, Heckburn Security asked us to help them refresh their existing website, which no longer reflected all that they offer.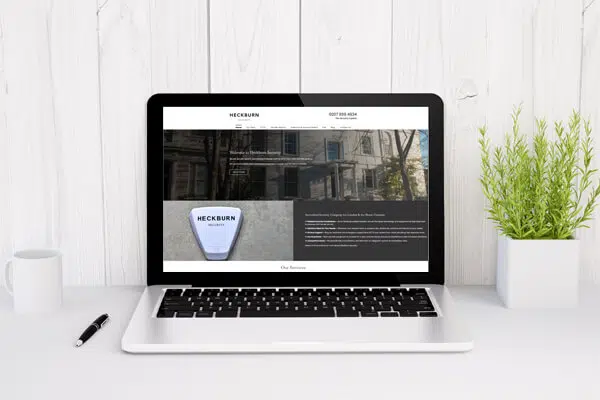 Operating across London and the Home Counties, Heckburn Security offers a wide range of solutions to both domestic and commercial customers, including CCTV and alarm systems.
Having worked with them for a while, we'd always felt their website needed an update as the content was too lightweight. It also needed to target their ideal customers more in the local area, including those looking for a professional, high-end security company.
Heckburn's office manager George and owner D'Wayne agreed with our web designer's recommendations and decided to go ahead with the website rebuild.
The Results
Take a look at the new Heckburn Security website.
As you can see from the results, their new website finally showcases all they offer, with a design that represents the business. The navigation easily guides any potential customers to the relevant information they need.
Both George and D'Wayne worked closely with our recommended copywriter to adapt and develop the existing content, providing information via both phone and email. The aim was to promote some of their most popular services better, as there were lots of details missing about the different types of expertise they provide. Their fire alarm web page didn't have any content present, so this needed writing from scratch too.
George and D'Wayne were delighted with their website overhaul, feeling their content now has the level of detail they want. They hope to make further additions over time, including informative blogs and case studies of some of their most recent work.
For WordPress development, copywriting and web design consultancy in Bromley, contact us
Ready to get started? Call us on 020 3871 8773 or email hello@jj-solutions.com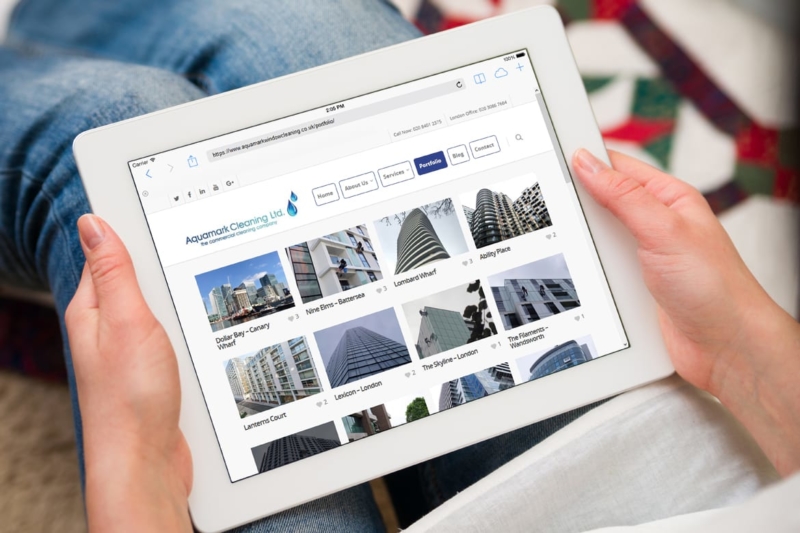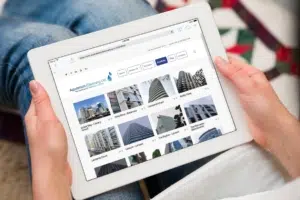 Our websites are always:
SEO-friendly: We are SEO experts so we can help your business be noticed online, to deliver organic growth.
Accessible: We build websites that can be accessed from all devices; our sites are always reachable and useable for as many people as possible.
Easy to load: Nothing puts people off more than a site that is slow to load. We use our technical know-how to ensure your site loads with ease.
Easy to navigate: We create intuitive sites that are simple to navigate and provide an outstanding experience that will delight visitors.
Simple to update: We provide WordPress websites and sites on other platforms that our clients can update themselves with the click of a few buttons. With no technical skills needed to edit your website, you will be able to make changes, add images or words and customise your site as frequently as you wish.
Whether you are looking for a simple web design refresh or would like a brand new WordPress site, our internet designers can help will help to bring your ideas to life.
Please call now on 020 3871 8773.
Bespoke web design for your business near Elmstead (BR3)
When it comes to really succeeding online, the importance of great web design, user experience, and functionality are at the heart of the process. Every website that we build combines these to offer our customers exactly what they need. From beautifully-designed brochure-style sites, through to full e-Commerce sites, our sites are designed with customers in mind. Read our blog about creating your website in 5 easy steps.
So, what other reasons are there to choose our services?
We have over 18 years' experience and are passionate about what we do; from WordPress design, to App development or even graphic design, there is nothing our web designers cannot turn their hands to.
We have clients in all sectors; from interior designers and hairdressers to gardeners, glazing companies, security specialists and more. You name it – we have done it! We can offer clear web design or SEO and web consultancy to help you get the best from your online presence.
We also keep our prices low and affordable, so our web design services can be accessed by even the newest start-ups on a budget. Our starter package price starts at just £299 for five pages and the domain and includes and SSL for the first year.
We are local and recommended. Much of our work comes from repeat business and word-of-mouth referrals. We work throughout the local areas, designing websites for clients in West Wickham and Orpington.
We make the web design and consultation process easy, with no hidden costs and no jargon. We just create simple and brilliant sites, that rank well on Google and that will help you grow your business.
We can also provide you with ongoing support, advice, and WordPress or web consultancy to ensure you get the most out of your online presence.
For WordPress development, copywriting and web design consultancy in Bromley, contact us
Ready to get started? Call us on 020 3871 8773 or email hello@jj-solutions.com
Wordpress web design for businesses large and small in and around Bromley including:-
Bickley
Chislehurst
Elmers End
Hayes