Professional, affordable & bespoke web design in Ewell / Stoneleigh
JJ Solutions is a local, professional and friendly web design company providing web design, web development, copywriting and Search Engine Optimisation (SEO) solutions to companies in Ewell and Stoneleigh in Surrey.
Our expertise ensures quality, reliability and swift execution of all projects, which range from small website builds, through to complete CMS and E-Commerce solutions for International companies, and the local football club Stoneleigh Athletic.
We combine creative enthusiasm, with expert technical competence, so we can help you market your services and brand online.
At the start of any project, we will take time understand your goals, image, budget and target markets, so we can create a quality, easy-to-use and responsive website at an affordable price.
We keep our prices low by working with you directly from start to finish and will always communicate with you in jargon-free language, so we can meet your specifications, however simple or complex. Surrey Walkies is one website that we have recently launched.
We can manage everything from one-off consultations, through to a complete service with web build, hosting, email and domain management, content creation and SEO.
Able Building Services – A Website Revamp for a Building Company
When a business first launches online, they often start out with a basic website that over time, no longer fits their needs.
Back in June 2020, we were approached by Able Building Services, who wished to overhaul their old site to develop a professional website they could be proud of.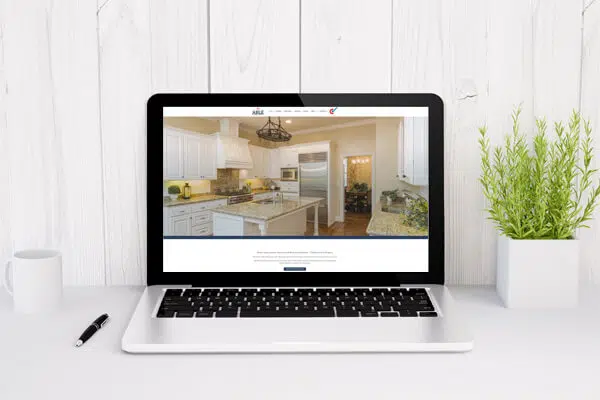 Client Brief
Based in Ewell, Able Building Services specialises in home improvements, bathrooms and kitchen installations across locations in Surrey and South West London.
Owner Dave got in touch with JJ Solutions about our web design services because the current website had been previously built by Yell and wasn't reflecting their services well. Yell owned the existing content, but it wasn't detailed enough for SEO campaigns, which Dave was also hiring us to implement on an ongoing basis. He wanted a new WordPress website design, and the only aspect to survive would be the company logo.
The website navigation was agreed, including a separate page for electrics, which Dave would be finishing his qualification for in August.
The Results
Take a look at the new Able Building Services website design.
As you can see from the results, they now have a professional website to showcase their services. The moving graphic on the front page beautifully emphasises the fact they offer full design to completion services when installing new kitchens and bathrooms while enhancing the stunning aesthetics of the website. We've also created a gallery section for Able Building Services to display their work and increase trust with potential customers.
Dave also worked closely with one of our recommended copywriters to create the wording for the website content, which would help to influence the layout of the web design. Dave was delighted with the final write-ups with no changes required.
Since the website launch, we have continued to work with Dave via our SEO services, including the creation of landing pages to target local areas such as Leatherhead, Tolworth and Wallington. This should help to drive more high-quality leads to the new Able Building Services website.
Start your web designer project by calling JJ Solutions now on 020 3871 8773.
Our comprehensive range of web services includes:
SEO
Web design
Social media
Mobile web design
Marketing services
Consultancy services
Systems development
Copywriting
E-Commerce
Custom WordPress design and WordPress development in Ewell, Surrey
Are you looking for a striking, intuitive and functional website for your business? Let our expert web designers in Orpington, put together the perfect website for you.
We specialise in WordPress and we offer a full range of web services and can create custom WordPress themes, plugins and responsive sites.
Whether you want a large e-commerce store, a simple business website like Cuddington Carpentry or something a little more complicated, JJ Solutions can handle it all.
What are the advantages of a WordPress site? WordPress is the world's most popular Content Management System (CMS) and there are many reasons why so many people love using it. It is a back-end content management system, which allows you to log in to your business website and update content and make changes as and when you please.
This platform offers a more efficient and simpler user interface to other platforms, making this task easy! WordPress sites are also very scalable and once it has been set up, your website will serve you for many years to come!
Google also loves WordPress and the content can be designed and built to be easily indexed by search engines. Read our blog about the history of SEO.
Interested to hear more? Get a free quotation on your project today, by calling James and Jason on 020 3871 8773.
Let our web designers help you boost your Ewell business with a new or updated website!
In today's world a well-functioning and aesthetically-pleased website is key to promotion. We know that the way your present your brand is of paramount importance and we don't believe in a 'one-size-fits-all' approach.
Whatever you want from your online presence, we can help you establish your brand with visitors and customers. Working with the latest web standards and styles, we can provide unique and professional designs that mirror the personality of your business.
Whether you are aiming to get a new business up and running or want to update an existing website with new design and functionality, we are the team to call. From sleek and simple websites, through to powerful E-Commerce systems, all our sites a fully-responsive, mobile-friendly and fast.
We can also provide you with an easy-to-use content management system, so you can change and update your website yourself.
We can also help you increase visits to your site and improve ranking, so you can get ahead of your competitors with our SEO solutions. Using ethical SEO techniques, we ensure you're your website is in the best possible position to succeed.
Get in touch with our WordPress designers in Ewell today!
We love to hear about new projects and are always available to meet in person for a coffee and a chat about your ideas. We can also work remotely via phone, email or Skype.
Please get in touch to hear more about how we can help you boost your business. We can be reached on 020 3871 8773, hello@jj-solutions.com or pop your details into an online contact form and we will get back to you.
See some of our more recent work