Web Design and WordPress experts in Surbiton
Are you hoping to drive more business to your website? Perhaps you are a start-up looking SEO advice? Or maybe you are an established business that needs a more functional online site for your customers? Whatever your internet needs our web designers can help.
Here at JJ Solutions, we offer a huge selection of web and marketing services, including bespoke web design and development, SEO, graphic design, flash applications, and developing CRM systems for a number of local companies in Surbiton and Chessington at unbeatable prices.
As well as making sure your site looks brilliant – and is easy to use, we can make sure the words will draw the customers in with our expert copywriting service. We can also offer blog writing, press releases and content marketing to produce fantastic results. Our competitive prices begin at just £299 for three pages and a bespoke design, for example we just launched W Removals. This also includes a free domain name and hosting for a year. Call us for free on 0203 871 8773 today to find out more.
Client Brief – W Removals New Website Design, Copy & Launch
A family-run and expert removals company, W Removals works throughout Surrey and South London, providing a competitive and efficient services. Removal services are tailored to the unique needs of the customers and include house moves, office moves, packing services, assembly and disassembly, and storage. They offer a full range of services you would expect from professional movers.
The business's website was looking outdated and they needed a welcoming and slick online presence to help attract new customers and generate new leads. The business wanted a company that would take care of the new website and helps them grow online with on-site SEO solutions.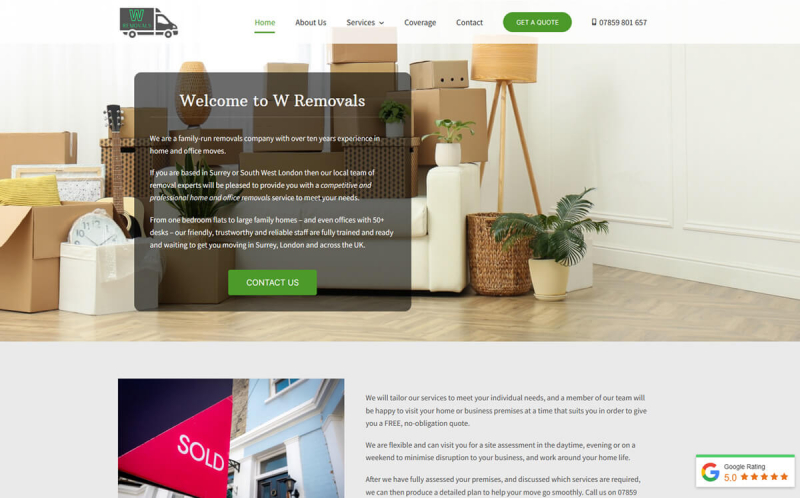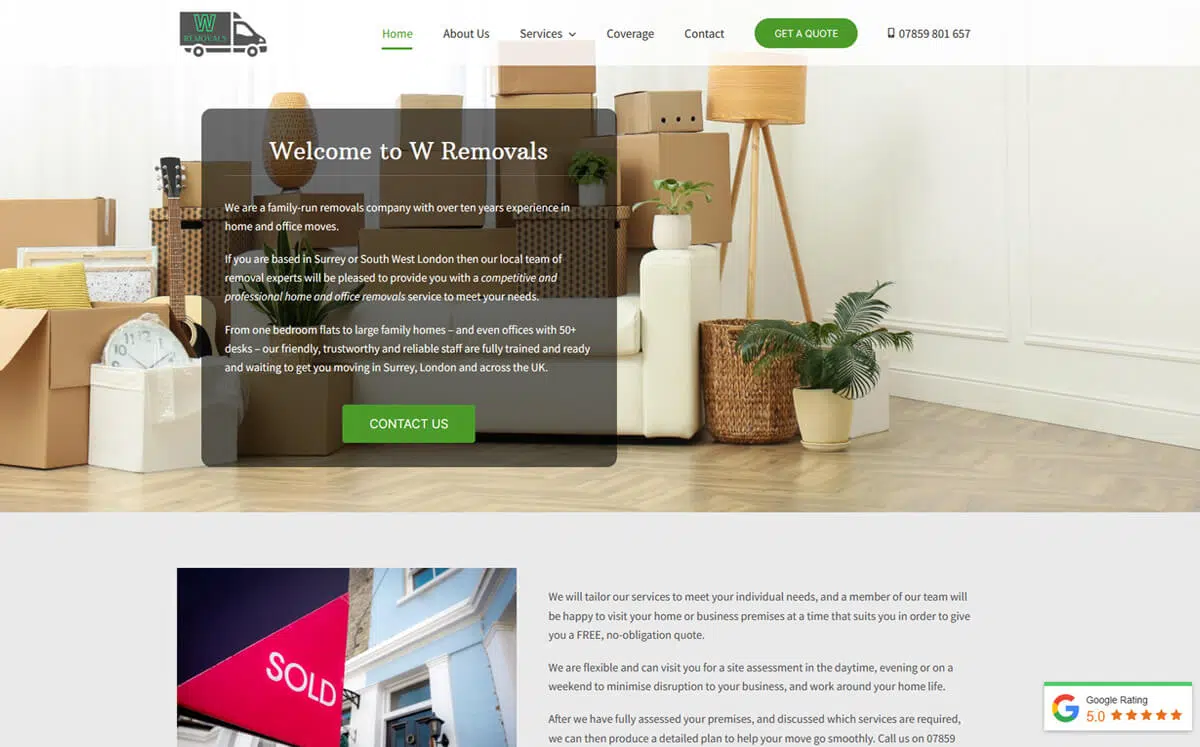 The Results
JJ Solutions created a new e mobile-responsive website for W Removals. This meant the site could be easily accessed on mobiles, tablets, and desktop computers. The site was built using the popular WordPress content management system, which meant to the client could choose to update it if they wished.
The new site featured easy-to-use navigation with a drop-down bar for services, so potential customers could find what they needed. The site featured a lot of lead-generating techniques including an easy contact form to request a quote for their services.
The business used one of JJ Solutions' experienced copywriters to create persuasive content for the site that really communicated the benefits of using W Removals and that reflected the great service that the business can provide. The copywriter also created local area landing pages for the different areas that the business wanted to target, so the company featured favourably in Google or search engine searches for the relevant areas.
To learn more about website design or SEO in Surbiton or Berrylands, please call JJ Solutions on 020 3871 8773 and tell us a brief outline of your requirements. We would be delighted to help.
Professional WordPress web designers available for hire in Surbiton
Here at JJ Solutions, our WordPress agency specialises in WordPress design and development. We can create a bespoke WordPress website to suit any need, from simple business sites, through to full eCommerce platforms, custom web projects and more. Whatever you need, we can create a WordPress site to fulfil your brief.
WordPress is a powerful, flexible and scalable Content Management System (CMS) and blogging platform and our webs designers can harness its capabilities to help you grow your business.
Why use WordPress?
It's easy and accessible, making content management simple and efficient
It offers countless themes and plugins, which extend the functionality of your site
It is marketing friendly and creates SEO-friendly sites that rank highly in online search results
Our WordPress themes are responsive, meaning they adapt to mobile devices like iPhones and iPads
WordPress is very scalable and as your site will evolve as it needs to
See an example of a recent WordPress site we created for a bifolding door company. If you would like to find out how we could build you a great website using WordPress, please get in touch.
Getting your Surbiton business seen online
At JJ Solutions, our aim has always been to help companies boost their online presence and increase business and we have been working in Surbiton since 2001 producing brilliant results with companies of all sizes, from one-man start-ups to large multi-national corporations.
We also specialise in SEO and with a decade of experience we have extensive knowledge and expertise of what gets a website to rank and how to create an SEO strategy that will grow with any type of business. We can drive targeted traffic to your website and have a created a succession of successful SEO campaigns for local companies such as CSL Law, South Thames Roofing and Solid Plastering, which have all ranked in the first page of Google for their choice of keyphrases.
We do keyword research that your business should target according to budget, competition and trends; competitor analysis looking at your top competitors on Google; studying site statistics and looking for patterns; writing 'META' tags for your pages and heading tags o optimise your site; link building and content management where high quality and relevant copy is the backbone of your website. Our SEO services also include monthly reports so you know how your keywords are performing. To read out blog about the history of SEO, click here.
It was from this experience that we realised that many web companies weren't communicating with their clients properly. Using bloated terminology to confuse things and hide behind.
We don't work that way, in fact we believe that it's so important for our customers to know what is going on that we spend a lot of time explaining the process and how things work together.
After all, we can't be experts in everything so why should we expect our clients to have any prior knowledge to what we do?
It is with this honest approach that we have retained so many of our original clients over the years and not many companies can boast such an achievement. We treat every project as uniquely as possible but still apply sound and tested processes to ensure that we can deliver the best service available.
Please contact us to find out how we can help you with your small business web design requirements.
Our other web design services in Surbiton
Alongside specialised SEO packages, our Surbiton website and WordPress designers also offer the following services:
Bespoke Web Design
AdWords Support (PPC)
e-Commerce Sites
Domain Hosting Services
Content Management Systems (CMS)
Graphic Design and Flash Applications
Customer Relationship Management Systems (CRS)
App Development for Android and iOS
Copywriting, Blog Writing & Press Release Writing
Social Media Support
Call our Surbiton web design specialists
To talk to one of our team about SEO or any of our other services, call us free today on 0203 871 8773, send us an email at hello@jj-solutions.com.
See some of our more recent work