The Leading Local Leatherhead Web Design Company for A Global Presence
There's no need to look any further for a well-recognised Leatherhead web design company.
We are renowned for designing websites for local businesses with a view to achieving the highest standards of style and functionality.
Although we are regarded as the leading Leatherhead web designers, we don't like to rest on our laurels and are constantly researching the latest web technologies.
Ashtead Web Designers: Affordable, Honest and Dedicated to Your Success
JJ Solutions has been delivering beautifully designed, search engine optimised and effectively programmed websites since we launched our business in 2001. The online world changes at an extremely fast pace, so we are always developing our skills to ensure that we are aware of the most current design standards. This is perhaps why we are seen as the most forward-thinking Leatherhead web design agency.
WordPress developers in Surrey creating imaginative and functional WordPress sites for eCommerce clients and others
Are you looking for an eCommerce site or small or medium-business WordPress site? Here at JJ Solutions, we are a web design agency, who build and optimise WordPress websites, such as Wheel Business, that will get you found and noticed online. We can take any idea and turn it into a seamless WordPress theme.
We develop custom themes and plugins, all coded with care.
Our WordPress developers can develop a site for your business from scratch to match your brand identity and offer a unique experience to your users.
We train our clients so they can update their WordPress sites, quickly and easily. They can add, remove and edit pages at the click of a button!
Our fully-optimised sites are all future-proofed and scalable so as your business grows, so can your site.
Get real ROI with our affordably-priced WordPress sites that are renowned for their reliability, functionality and robustness.
We provide on-going technical support so will have a solution for any query you may have.
Call us today to discuss your WordPress requirements.
Expert Leatherhead Web Design Services
Planning for a significant return on your investment is one of the most important aspects of truly professional web design. Leatherhead business entrepreneurs are always pleased with our results and commercial know-how. Although we're primarily an Ashtead web design agency, our skills extend to general business expertise, and we aim to combine superb design with tangible commercial results through our wide ranging skills, including in search engine optimisation.
Over the last ten years we've gained substantial experience in the constantly changing field of web design in Leatherhead. Local businesses can rely on us for any project, no matter how big or small. So whether you're a start-up, a sole trader, or a larger business with several employees, we can tailor exactly the right package for you.
A Comprehensive Ashtead Web Design Agency
We undertake all manner of work at extremely competitive prices. Better still, we have a perfect track record when it comes to customer service, so you can feel safe in the knowledge that you will get exactly what you want when you use our web design services. Ashtead designers simply don't come any better!
Allow the leading Leatherhead web design company to help you build the website your business needs. For example, we recently helped RJ Waste Clearance launch their first website – rjwasteclearance.co.uk – including the company branding. Contact us on 0203 871 8773 for a free consultation. Alternatively, send us an email or complete our enquiry form and we'll be in touch ASAP. We look forward to being of service to you!
GES Clean – A Website Revamp & SEO Support
Many businesses still have a website that was built when they first promoted their services online, so this can result in tired looking graphics, out of date information and a site that no longer reflects what they offer to clients. Back in September 2020, GES Clean came to JJ Solutions for a website makeover and search engine optimisation support.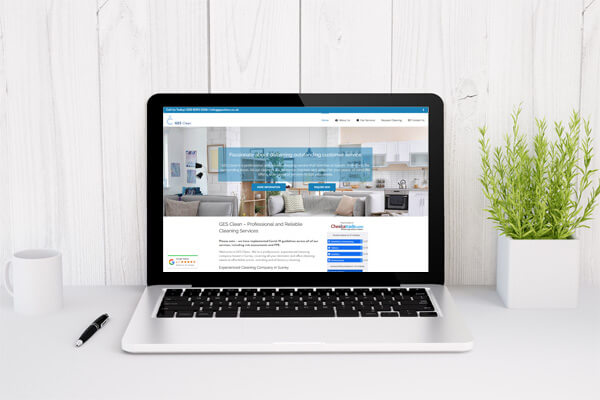 Client Brief – Web Design Services
Based in Epsom in Surrey, GES Clean offers professional cleaning services across the local area. This includes both domestic and office cleaning, as well as specialist solutions such as end of tenancy and after build cleans.
Owner Mike got in touch with JJ Solutions about our web design and SEO services. While they had an existing website, some of the content was inaccurate. He also wanted the whole site to flow better, and more SEO support was required to start bringing in new leads.
After making some recommendations, the next step was to start with some updated content to showcase the benefits of using their services, including a dedicated sales page which we could direct their Google Ads to. We joined them up with one of our recommended copywriters to begin the process.
The Results
Take a look at the updated GES Clean website.
As you can see from the progress, GES Clean's website already looks so much better, providing their customers with accurate information that guides them through the site to help them find what they're looking for. This includes a grid of services on the home page with clickable links.
Mike has been working closely with our recommended copywriter to rewrite the content on existing pages where required, including the home and domestic cleaning pages, which still detailed services they no longer offer. The end of tenancy sales page for the Google Ads campaign provided effective, punchy messages to encourage users to request an online quote. Our copywriter also wrote a brand new page for Coronavirus cleaning after GES Clean had several enquiries about whether they offered this service.
We've updated GES Clean's Checkatrade company profile, site meta tags and PPC campaigns, continuing to give them ongoing SEO support and helping them with their long-term aims to grow the business.
See some of our more recent work