Web Designers in Carshalton
Expertly-designed websites in Carshalton, South London
Here at JJ Solutions, we are passionate about local businesses reaching their online potential. We provide an affordable and hassle-free web design service in Carshalton, Hackbridge, Wallington, South Norwood, Morden and the wider areas of South London.
Every business needs a functional, effective and responsive website and that is why we design websites for all budgets. We also have the skill, experience, and technical expertise to ensure that your business is seen and heard online. We design, build and maintain websites and over the years we have delivered hundreds of digital projects of varying sizes and budgets. Our clients cross all sectors from local gardeners, personal trainers, and make-up artists to large glazing, waste management, and construction firms.
Before commencing any website project, we get to know you, so we can best deliver a website that represents your organisation and delivers results, so you can achieve your online goals.
Founded in 2001 by web designers Jason and James, JJ Solutions builds excellent relationships with our clients and we will never bamboozle you with jargon or tech-speak. We offer honest, impartial and straightforward advice and help. Our services include everything from WordPress design, PHP development, and plugin development, through to CMS and CRS systems and database architecture.
Our in-house copywriters write all types of content, including web pages and blogs. We are also SEO experts and offer all types of internet and digital marketing solutions, including social media management, Google Ads and local SEO.
We can build:
Standard websites: We can build websites that look great and are responsive and that are ideal for businesses of all sizes.
E-Commerce sites: We can assist you in selling your products in style, including easy product management, smooth transactions, unlimited payments, and real-time support.
Content management: From simple blogs to more complex sites, we can build a site where you can manage and access content with ease.
Search Engine Optimisation (SEO)
Digital marketing
WordPress and web design consultancy
YPB Waste Clearance – New Website for a Rubbish Removal Company
Many businesses understand the importance of launching a website when offering new services in their local area, ensuring they can compete with other companies offering similar solutions.
Having previously worked with YPB, in February 2021, they approached us to launch a new website for them, promoting their waste clearance services.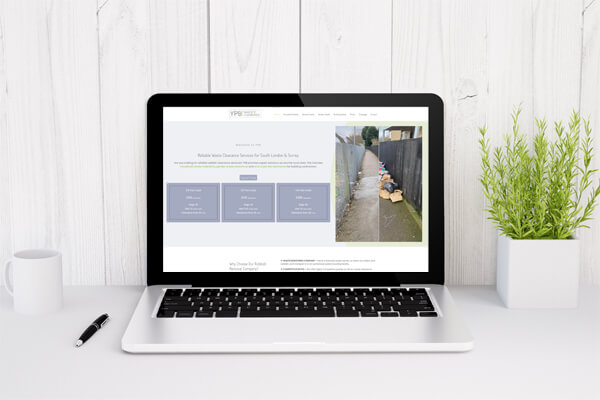 Client Brief – Web Design Services
Operating across South London and Surrey, YPB Waste Clearance provides a wide range of solutions. This includes services for the removal of household rubbish, garden waste and building waste.
YPB contacted JJ Solutions about our web design solutions, having been impressed with our services when they worked with us previously on other projects.
Andy, the company owner, was really keen to start so that they could launch the website as soon as possible and start promoting their services better. He kindly supplied examples of several websites they liked and explained any special features they hoped to incorporate into the web design.
The Results
Take a look at the new YPB Waste Clearance website.
As you can see from the results, they now have a professional website to showcase what they offer, including typical prices, dedicated web pages for each of their services and an easy to use contact page. We've also included images of some of the jobs they've completed, highlighted the benefits of using their company and added links to their social media accounts.
Andy worked closely with our copywriter to develop the content required, providing information over the phone to ensure nothing was missed, as well as covering some of the FAQs they wanted on the pages. Our copywriter also developed a framework for YPB to add price details to once they had decided on the specifics.
Since the website launch, we've continued to work with YPB Waste Clearance, including targeted landing pages for local areas such as Croydon, Sutton and Wallington. As the business evolves over time, they may also add web pages in the future for other rubbish clearance services, targeting offices and commercial clients.
Start your web design project by calling JJ Solutions now on 020 3871 8773.
Why choose our web design near Hackbridge?
Your website is like your shopfront and is likely to be the first place a customer will go to find out more about your business. We build websites in Carshalton that have a strong user experience, known as UX. Our work is based on tried and tested strategies that refined and tailored around your site, for optimal results. Read our blog about creating your website in 5 easy steps.
Just awesome. Moved us from the bottom of page 2 to 3rd on google search. Really lovely to work with, patient, helpful and on it!
Jason came highly recommended to me and he exceeded my expectations and I am over the moon with my website! Jason is very professional, creative and extremely focussed on customer needs. I was also impressed with his timely communications and willingness to go above and beyond. I have no hesitation in recommending Jason and will continue to work with him to evolve my website.
Absolutely amazing company so professional and helpful and the website is amazing. Very patient and helpful I would highly recommend this company. Lovely to speak with a person rather than automated responses. Words can not describe what an amazing company this is. Outstanding! Great value and excellent quality.
Jason at JJ Solutions did an excellent job on my new website. He did a office visit first to gain an understanding of the requirements but also giving advice. During the whole process he was very professional and helpful and willing. I do not hesitate in recommending JJ Solutions.
I can highly recommend this company. Produced a fantastic website for my new business venture. Friendly and totally professional throughout the process. The guys are always willing to offer expert advice when needed, nothing is too much trouble. Thank you.
I already had a website built by a large company, but wasn't happy with their service. The web developing was outsourced to someone in another country, so difficult to communicate my needs.I found Jason recommended on facebook and google. He redesigned my website in just a few days. He took the time to understand my business and exactly what was required. The price was also very reasonable. Amazingly happy with my site now. I would wholeheartedly recommend Jason's services.
I took a chance on JJ solutions and i am so glad that i did from my first phone call with James i knew that they were the people that i wanted to build my website. Jason was clever, understanding, informative and patient. The copywriter at JJ solutions was just as friendly. I felt that I was in safe hands and that i was guided to the right product for my type of business. It was my first time getting a professional website (i tried several times to do it myself!!) I could not recommend this company enough.
Excellent service and expert advice at reasonable prices. Highly recommend.
James and Jason have been great! They have made my website look amazing, they were both professional and helpful and offered great advice. I would highly recommend them.
Really helpful team. Have got our new website up and running and we are starting to reap the benefits. Would recommend.
We have been a client of JJ Solutions for a number of years now and have built a brilliant working relationship with them. easy to use systems, friendly staff and well priced
I needed help with a new website and promoting my pet care business. I found the brilliant team JJ solutions who are Jason & James. I can whole heartedly recommend them. They created my website keeping in touch regarding my thoughts and making sure at every stage that I was happy. They also helped in promoting my business and making it more visible.You can trust JJ Solutions To do a top class job for you, communication is excellent and their work and approach is highly professional on every level. You are in the best hands with them.
I have been using JJ Solutions to build my website since I started the business back in 2007!They have helped me from the basics such as setting up email on my smartphone, running a small Adwords campaign for me, to optimising my website so I'm on the first page for "plasterer surrey". More recently they made my website mobile friendly and I've been really busy ever since!I wouldn't hesitate to recommend them as they produce lovely websites at an affordable price.
I cannot recommend Jason highly enough
I would 100% recommend to anyone starting a new business. Their honest approach and sound advice has made so much of a difference to my website and SEO. I now feel much more confident about making changes and that my business will grow knowing they are with me. Thanks!
Excellent service from JJ Web Solutions, had my website up on my domain in 48 hours and were very accommodating of my requests.
I can honestly say JJ Solutions have really outshone other developers we have dealt with in the past.Very knowledgeable and pleasant to deal with.We highly recommend them for sure.Thank you once again for the lovely website you designed for us.
We are a couple of dinosaurs when it comes to technology, but Jason explained everything clearly and interpreted our ideas really well, offering excellent advice and guidance. We are delighted with our new website, it's different to other care companies and is elegant and easy to navigate. We thoroughly recommend Jason!
I have been working with James for 15 years now and wouldn't trust anyone else to deal with my website and SEO needs. What James doesn't know isn't worth knowing. What I like best is his ability to be able to solve a problem no matter how complicated and deliver when he says he's going to deliver. I have been recommending James for many years - and will continue to do so. JJ Solutions delivers the kind of service you'd expect from a big agency at cost-effective prices.
I engaged JJ-Solutions for my website because some of the reviews on their own site were so good, and also the clear, very reasonable pricing model. I wasn't disappointed. Jason was excellent, going well beyond the extra mile, and his experience comes through strongly in all the work he does. I am delighted with our new website. JJ-Solutions exceeded my expectations. Strongly Recommend.
JJ Solutions have created and supported my website and all my businesses nationally and globally for the last 15 years or more. It is a reliable, efficient company which provides a great service and is really good value for money. The guys are lovely to deal with and are true professionals.
I can highly recommend JJ Solutions. After my first conversation on the phone with James, he explained in detail how they will get my website where it should be and the phone ringing! They have! I have been really pleased from beginning to the continued contact I receive in making sure my business stays at the forefront. They are both professional, extremely helpful and experienced in what they do. I certainly will pass their details to anyone who needs a website build or SEO help!
Very courteous and professional firm . They have built 2 websites for us and we are extremely happy with them. Their aftercare and support is fantastic and they are always there at the end of the phone if you need them. Their advice and knowledge of our industry is second to none. I would highly recommend this company to anyone (except our competitors!).
Jason and James are Brilliant, I can't recommend them enough and so reasonable with their pricing. They really understand the needs of small businesses and get great results.
Fantastic service updated my school uniform website to cope with the ongoing situationVery prompt service explained how to do things myself that I could understand as I'm not computer savvyHave used them for over five years
We were recommended jj Solutions by a friend following a steady decline in contacts through our website. We have been working with jj Solutions for about 18 months and despite having huge penalties on our site from the Penguin releases (following rogue links from our previous web team) jj have managed to clean us up without having the expense of re writing our site. Following this we have had a huge influx in leads and have even dropped our leaflet advertising with Checkatrade; the result is a lot more beneficial when putting this saving back into the web management. We can even easily identify when the team have been working on landing pages in particular areas. In particular, James goes above and beyond, helping us with new design ideas, advising us on which computers to buy, explaining the complicated world of SEOs etc. It is with much regret that I have been asked to write a review as professionally as I would rather keep jj Solutions a secret from our potential competitors! For once I have found a company who actually cares and is worth every single penny. I would not hesitate to recommend them.
JJ Solutions have looked after my online requirements for 10 years and I am onto my third website with them. These websites have been very successful in gaining me new clients and I am almost able to do away with any other forms of advertising. If I need advice Jason is easy to contact and I like the way he deals in the customers' best interest rather than his own. I would not hesitate to highly recommend JJ Solutions.
What an amazing company! I was recommended to James from a close family friend who uses JJ Web Solutions for his landscaping website.James updated my original website and made it mobile friendly as it was very dated. Before JJ, it didn't generate much work through the search engines and when clients got there, they didn't call. But the brand new site and the SEO really worked!Since James has done this the workload has trebled and the business has had massive growth - even in a pandemic.This company is reliable, honest and highly competitive. Absolute flawless service. ⭐⭐⭐⭐⭐.Many thanks for your hard work.Best RegardsDh Tree Services Ltd.
very friendly team of james and jason. they have lots of helpful insight on design and feel for a website. glad to be working with them as they help with this aspect of our business. thank you both for the lovely work for our new website
We have worked with JJ Solutions for the past 6 years and they have always been very efficient and helpful. They have translated our ideas into a website that meets our requirements as well as offering advice and support always in a timely manner.
I had an awful experience with another developer, since contacting Jason and James the experience has been fantastic, complete proactive professionalism. The site build is fantastic and they've helped me out so much regarding some issues I had with the previous cowboy developer. The content produced by their copywriter is fantastic and I'm just so pleased with how everything has flowed, nothing has been too much trouble. I sit down in the evening late and send emails, Jason replying at home 11pm and making the changes, above and beyond service that isn't expected.I can't wait to see how we can see the site grow and the results we can get.Thoroughly recommended.
I had an excellent experience with J&J. They have been very reactive and went the extra-mile to accommodate some late changes. Thank you!
We were absolutely delighted with our website from JJ Solutions! We worked with Jason, who was highly professional yet personable and patient, and we are so pleased with the result. He was very efficient, always readily available to help, and the training we have since received on the site has equipped us to update content ourselves regularly and confidently. We would not hesitate in recommending JJ Solutions to anyone looking for a sophisticated, high quality site. Thank you!
Jason at JJ Solutions provided me with a first class service. An original wedding photography website is not an easy thing to create but he absolutely nailed it. Nothing was too much trouble and I love a 3.35am email! Bouncing ideas around, tweaking stuff, calling bang on time and prompt amendments was all part of the package. USE THIS GUY!!!!! :)
I'm delighted with the warm and professional service provided by Jason. He guided us carefully through the decision making stages while developing our website with a clear, patient and balanced manner. I highly recommend his positive and iterative approach, placing the clients' needs at the heart of the process.
Jason was a pleasure to deal with! Calm, patient and knowledgeable with loads of really good advice. We'd be very happy to recommend him.
Why it is important for your Carshalton business to get online
SEO-friendly: All our websites are optimised from the outset for leading search engines like Google and Bing. Once your website has been developed, we can offer on-going SEO support to deliver continuous organic growth.
Responsive: Did you know at 60 percent of internet use is now via a mobile phone? All our sites work across all devices, so you can reach as many potential customers as possible. They are quick to load and easy to navigate, offering an excellent user experience.
Secure: Your website will always be safe and secure and comply with the latest data privacy laws.
Easy to update: We ensure that making changes to your website can be quick and easy. We build many of our sites using WordPress and will provide support and training, so you can update it yourself.
Affordable: We offer exceptional value for money. Our starter package price starts at just £299 for five pages and the domain and includes and SSL for the first year.
Local CR3 WordPress design by our web design agency
Many of our websites are built using the popular CMS platform WordPress, which is used by tens of millions of websites across the globe. We will build a WordPress site in Carshalton that look great and offers a range of add-on features, called plug-ins that can be added with ease to offer different functionalities.
This means your site can grow with your business and will never become obsolete.
Your WordPress site will also offer intuitive controls so you can manage the content easily, as well as trusted security. WordPress is also SEO friendly, giving you're a head start with digital marketing and organic growth.