Welcome to JJ Solutions – web design agency based in Epsom
The online space may seem like a very competitive one.
This could be an area that you believe your business may falter in, or you wondering whether to even try and take your business online. We understand your concerns.
We have been working with businesses across Surrey and Epsom for many years. Our aim is to help them engage with their prospective audiences online and to increase awareness and sales.
There is no secret to online success. It comes through adopting the right practices and working with the right people. Knowledge is power, and internet marketing can bring some fantastic rewards to your business. We have formed long lasting relationships with our customers, over the ten years we have been running our own business. The key to our success is being able to understand our customers, their market and their customers. We can then start to build a solution for them. From attracting prospective visitors, to converting them into customers, our approach really adds value.
Our skills and experience ensures that we can offer you a number of internet services. Whether you require one, two or all of them, we pride ourselves on delivering you a website that works for you and your customers.
Avant Garde Events – Professional Web Design Showcasing a Wide Range of Services
When a business offers a wide range of services, it can sometimes be hard to showcase some of the more specialist solutions offered. This next website design project started back in late 2018, continuing into 2019 to create all the content required for their new site launch.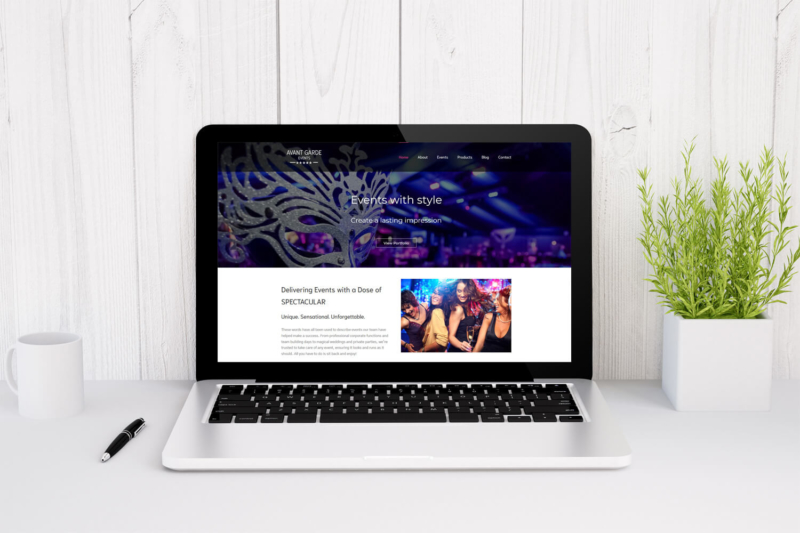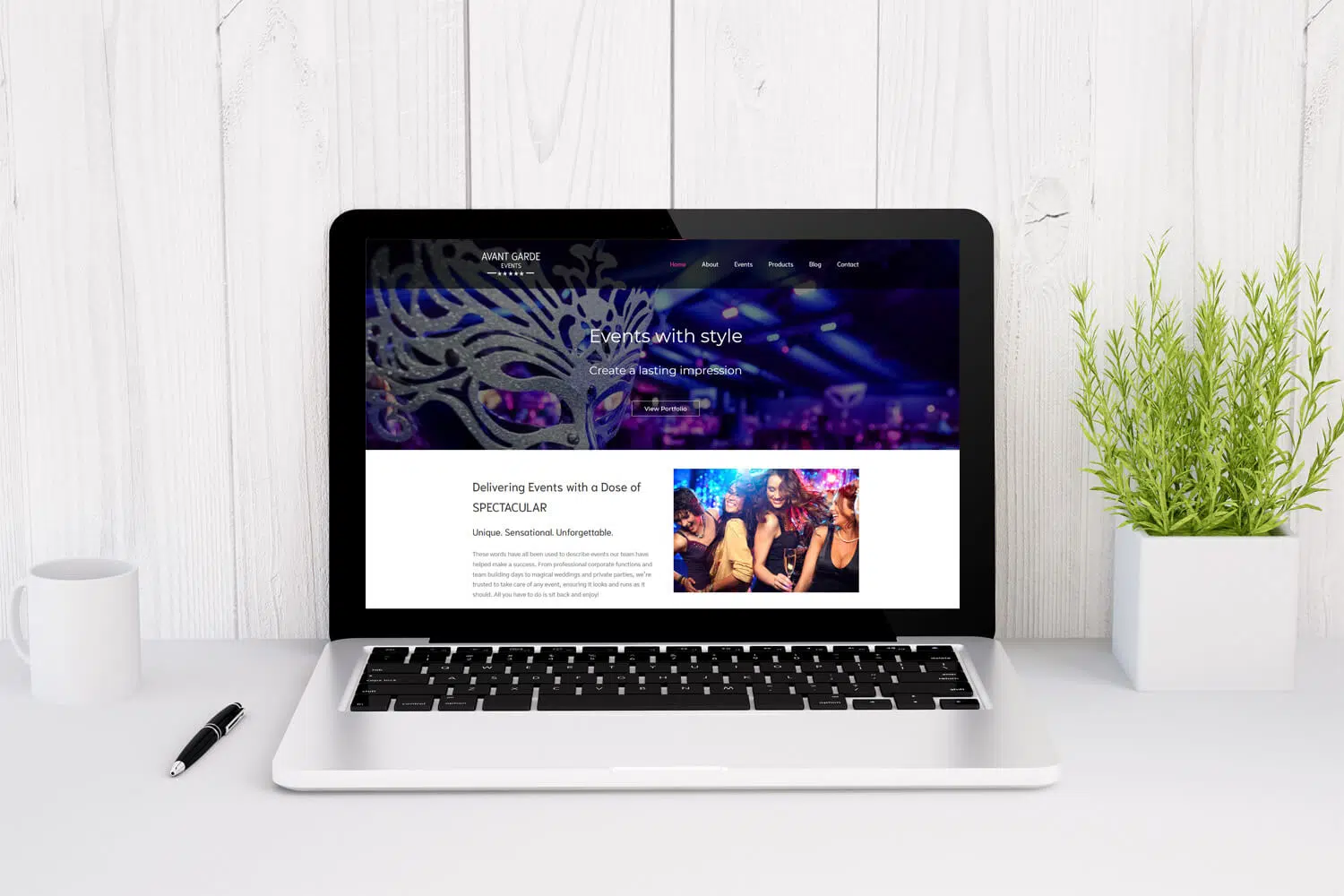 Client Brief – Web Design Services in Epsom
Working across Surrey, London and the South East, Avant Garde Events were launching as a spin-off brand to an established, award-winning DJ service. Danny Costello got in touch with JJ Solutions for their help in doing this, wanting to build on the success of their original website.
While still promoting DJ services, Danny wanted this site to put an emphasis on the vast selection of event services they offer such as AV hire, event lighting and photo booths, as well as showcasing the different packages for occasions such as weddings, gala dinners, conferences and sporting events. They hoped the content would also highlight the experience and reputation of their production team, as well as the exceptional management of all services delivered.
The web design and content brief was to create a website which had bucketloads of personality, looking professional while adding a sprinkle of quirkiness. Danny provided links to websites he liked and clear information about what he hoped to achieve.
The Results
Take a look at the new Avant Garde Events WordPress website.
As you can see, they now have a professional, responsive website to showcase the large number of specialist event services and products they offer. We ensured the design included clickable links throughout for easy navigation, a grid of services, a contact form, stunning images, client testimonials and social media feeds, as well as highlighting the venues and suppliers they regularly work with.
We also arranged copywriting services to develop the wording on each page. Danny worked closely with an expert copywriter for this, working on 2 to 3 pages at a time so that he was satisfied with the content before moving onto the next part.
Since the website launched, we've also added a section for blogs, which has given Avant Garde Events the perfect space to talk in more detail about their expertise, promote their products and create engaging content for their business. Again, Danny hired our recommended copywriter to create the blogs you'll see here.
Start your web design project by calling JJ Solutions now on 020 3871 8773.
WordPress designers in Epsom
Did you know that WordPress is the fastest growing Content Management System (CMS) in the world and is now used by over 50 per cent of the most visited sites on the web? By using WordPress you can enjoy huge cost savings and manage your own online presence. Whether you want a new WordPress site, to convert your existing website to WordPress or you have another WordPress query, JJ Solutions can help!
We offer the following services and more:
WordPress web design: Our small team of expert WordPress designers can create stunning, high quality, responsive websites that targets all devices and that matches your brand and identity.
WordPress SEO: Our approach ensures your WordPress site will be found and will always rank highly in search engine results.
WordPress plugin development: Plugins add more functionality to your site with a few clicks. We can build you bespoke plugins that will add required features to your WordPress website.
WordPress security: We can build a solid and secure site, giving you valuable peace of mind.
To view an example of sites we have built for local business in Epsom, please visit Steel Electrical Services or World of Roofing.
Professional web designers in Epsom, specialising in WordPress and PHP development
We are very enthusiastic WordPress web developers and have a vast range of experience using this popular content management system (CMS). Our WordPress sites focus on functionality and content and help our clients all over Surrey, London and the South East develop and grow their businesses.
Through innovative and effective WordPress design, our websites are accessible and look great and work well on all devices.  WordPress is so popular it is estimated that at least one in every five websites for small businesses is powered by it.
Why use WordPress for your website?
Easy to use: WordPress is intuitive to use and content can be easily added, edited or updated.
Powerful and scalable: It can be used for everything from a simple website, through to a fully-fledged eCommerce site. As your business grows, your site can too.
Google loves WordPress: From an SEO standpoint, WordPress websites rank highly because they are clean, fast and updated frequently.
Mobile-friendly: WordPress websites work well on all platforms, including iPhones, iPads and Blackberries.
Plug-ins and themes: There are thousands of plug-ins and themes, which extend the look, feel and functionality of WordPress sites. We can create bespoke themes and plugs-ins to boost your business.
If you would like to chat about a potential project, please call today. See a recent site we built for local fencing company Woodcote Fencing.
Web Design for small business in Epsom
A website's design has a huge impact on your business. First of all, it needs to function. It should enable a visitor to find the information they are seeking quickly and easily. We take the time to research your customers, to understand what other websites they visit. We want to know what they like before setting off to create anything. Your website is your shop window. Getting it right for us, and you, is essential. To see examples of websites we have recently produced, click here.
Web Development Services
If you already have a website and you don't want to change it too much, then our website development team can make the required changes to it, adding extra functionality to make it even better than before. We can look at the Google Analytics data from your website to determine what improvements can be made. They can range from lead generation opportunities to improving your conversion cycle. We also look at improving your checkout process, if you have an e-commerce element to your website.
Freelance WordPress Designers
WordPress is one of the most popular Content Management Systems (CMS) in use today. Businesses from all corners of the world use it. It also works brilliantly for thousands of businesses worldwide, regardless of their size. If you are having trouble with your WordPress website, our brilliant WordPress developers are here to help.
Inbound Marketing
Over the last few years, we have seen a big change in how we market to people online. There has been a shift in how people behave on the internet, how they purchase and how they gather information.
Compared to other website agencies, we go the extra mile. We like to understand your business. We aim to provide solutions that will develop and grow your business. That is why we look at inbound marketing techniques, and how they can make your business achieve more.
Inbound marketing techniques include; SEO, Blog writing and copywriting. These all encourage the use of content to engage with potential customers and influencers.  If these methods are used together, the results can be truly amazing.
See some of our more recent work