Web developers near Raynes Park available for web design and new websites
JJ Solutions is a digital web design company based near Raynes Park and Merton with a special focus on small and medium-sized business web design services in Wimbledon and digital marketing solutions.
We offer web design, website domain hosting, web development, online marketing, SEO, App design and more. With over 15 years' experience, our small team of expert web designers deliver high quality websites at the best prices.
All businesses should have a website, no matter how small or big. Our websites are responsive, look great and are SEO optimised, for example take a look at an example of a Fielding Triggs page that promotes their will writing service. We work with all types of budgets and will always deliver projects in a timely manner. The majority of the websites we build use user-friendly content management systems, like WordPress, so they are easy to manage in the future. We also offer website maintenance, support and digital marketing services. We focus on results and use our technical skills and extensive experience to help you reach your online goals.
Are you looking for a new website or a website upgrade? Our services are ideal for both new business start-ups and established businesses that are looking for a low-cost and hassle-free way of gaining more sales leads. Everything we design is built to the very latest standards and we have a client base that covers a vast variety of industries, from building and glazing, through to house refurbishment and security companies and garden design and tree surgeons.
Whether we are helping bring a new business to life online or reviewing an existing website and making recommendations, we pride ourselves on offering our clients an enjoyable and seamless experience.
Get in touch with our experts who can help you bring your ideas to life! We can be reached on 020 3871 8773.
See some of our more recent work
Unique web design in Raynes Park to drive your business forward
Your website will be the first point of contact for potential clients, so it needs to be informative and look great on all devices and custom web design is our speciality. If you point a lot of effort into your business, why hinder it with a poorly-designed site?
Let us take care of your website design and we will gain visitor's attention, engage them and convert them into loyal customers.
Design: Our highly qualified and experienced designers will create unique styles  and designs to match your brand and digital requirements.
Strategy: We can unlock the online potential of your business through tried and tested digital solutions. We use an personal and honest approach, where we will work closely with you to build a strategy to target sales leads and make your site work for you.
Development: Our web developers can meet with your and advise you on the best platform for your online needs. Our sites are versatile and will function across multiple platforms.
Marketing: Our expert team can help you build your business and grow your reach.
BuildSpaces – New Website Promoting Specialist Building Services
When a professional recognises that particular services in their field are more lucrative than others, they often decide to specialise in this area or create a website to promote this type of expertise. Back in November 2020, we were approached to design a brand new website for BuildSpaces.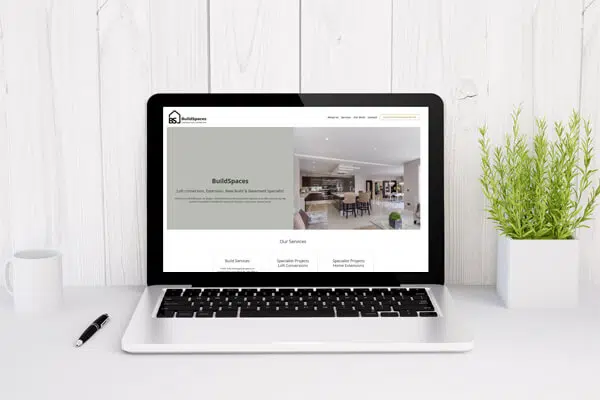 Client Brief – Web Design Services
Operating across London and Surrey, BuildSpaces offers specialist build services, including loft conversions, extensions, basements and new builds.
Having worked in construction and development for many years, Michael and Jino got in touch with JJ Solutions about our web design services. They wished to develop a brand new site alongside their existing one for their building company to promote some of the bespoke projects they provide expertise in.
The website navigation was agreed upon, and they provided professional, relevant photographs of their work to add to the website.
The Results
Take a look at the new BuildSpaces website.
As you can see from the results, they now have a professional website to showcase their expert services and project work, including dedicated pages for property extensions and loft conversions.
We've also included an About section and promoted the benefits of using their company on the home page, including fast track constructions, guarantees and a fully managed process. The images provided were high in quality and showcase their stunning work perfectly.
Jino worked closely with our recommended copywriter, including a phone consultation, to ensure all the content details were confirmed. This process meant the site plan could be approved with us, and a timeline was put in place for when the copywriting would be produced, helping us to plan the web design stages.
BuildSpaces were really happy with the content and level of detail produced, giving us the green light to proceed with the rest of their website development.
We are leading WordPress developers near Raynes Park!
JJ Solutions are a leading WordPress design company, creating sleek, sophisticated and responsive WordPress sites. We have been developing WordPress sites for well over a decade and follow simple, yet highly effective tried-and-tested methods to build great websites.
Whether you need a new website to be built from scratch or your current site refreshed and updated, our WordPress designers can help.
Responsive WordPress design: We build sites that work perfectly across all devices, including tablets, mobile phones and laptops.
Custom plugin development: We can create plug ins to enhance the functionality and productivity of your site.
Bespoke WordPress development: We can create websites that match the look and feel of your brand or business and that blend functionality and features.
SEO-friendly: WordPress is naturally SEO-friendly and we can optimise your site, so it stays at the top of search engines.
Easy to use: WordPress has a very intuitive and user-friendly interface, which means you can add new pages, images and blog posts and easily manage your site yourself.
Contact our local web design experts near Raynes Park for a no-obligation quote!
We are available by phone, email or to meet in person to discuss your project. Fill out this form to get started, email us at hello@jj-solutions.com or us today on 020 3871 8773.